The new football season is about to start next week, and before then, Machester City will take on Leicester City at Community Shield. On Wednesday, Chelsea will take on Villareal at UEFA Super Cup. In this post, I will be discussing how to watch live football matches live streaming and on satellite tv platforms.
How To Watch Live Football Matches On Streaming Platform (IPTV)
Streaming live football matches is one of the best and reliable platforms. Simply because Streaming live content lies on the strong internet connection and data consumption. We (Nigerian) or (African) believed that our internet speed is not suitable for the IPTV. That's a lie because most Nigerian are now embracing IPTV more than ever. You'll have everything you need to watch in your own palm.
To watch live football matches across the European leagues, I advise you to buy any of the IPTV subscriptions we have reviewed on this website. You can as well seek our recommendation on those IPTV subscriptions.
Never fear data consumption because most of these Nigerian internet service providers are now offering affordable plans for customers to enjoy the world of entertainment on a streaming platform. Both MTN and Airtel offer 40GB data for N5000, which is enough to stream your favorite matches throughout the month. However, you won't use it anyhow or use it 24/7 because of the data consumption.
You can watch live football matches on a device support streaming platform or IPTV, including digital satellite receiver, Smart TV, Android TV Box, Roku, Firestick, Apple TV e.t.c.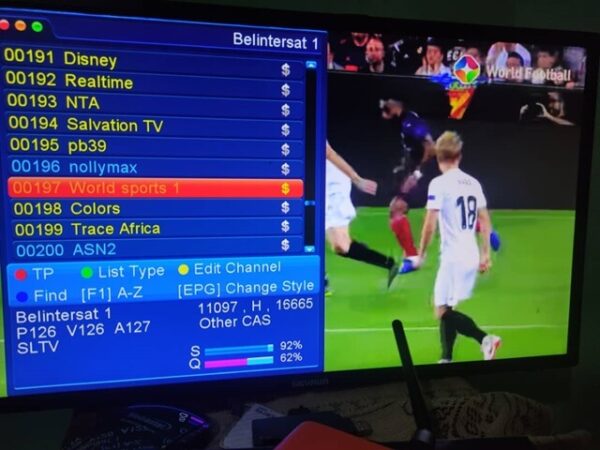 Using Satellite Dish
Even though we're restricted from watching live football matches on some free-to-air channels. Yet there are some European Satellite covers in West Africa, including Yes package on Amos 4W, Hotbird 13 using Canalsat Poland, or Nova Sports Greek with the help of Forever Server receivers. But these satellite packages require big size dishes range from 4m to 6m dishes. Only North African is the favorite to catch most of these satellite packages with small dishes because they're very close to the European beam.
Back to Nigerian and its neighboring countries, We can still make use of the available resources, i.e., CBC Sport/IDMan TV on Intelsat 45E, though it is not reliable means.
Yayi TV is back and better. You can watch EPL, LA Liga, Champions League, UEFA Cup, Copa America and many other top European leagues on Yayi. Also, you can renew your yayi tv decoder or buy a new yayi decoder to watch live football matches. SLTV Africa is on the way back to airing live football contents this season.
You can also watch live matches using Mediastar MS-Mini 1818, 2727 series packed with some channels which I won't be mentioning the channels name here for security reasons. For more details contact me.