Novaler is the first-ever Algerian 4K Ultra digital receiver. It is a high-performance device with dual DVB-2X tuner, Multisystem and Android. When you're looking for a decoder with 2160p ultra-high-resolution combined with Android and 4X enigma 2, I will strongly recommend Novaler 4K Ultra Multibox receiver. Let us move to check the Key specifications.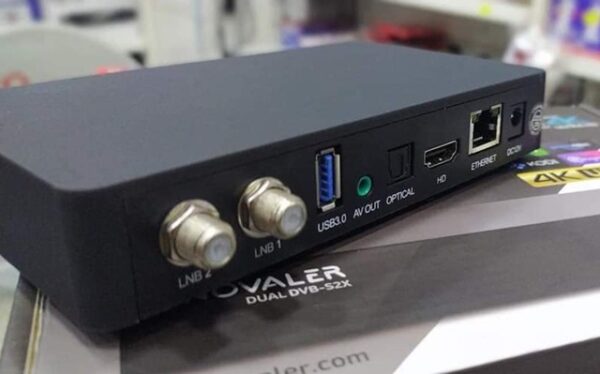 Novaler 4K Ultra Multibox Receiver Key Specification
Support 4X Enigma 2
Support Dual DVB-S2X Multi-stream
Android 7.0 Operating System
Huawei Hisilicon 3789MV200
Quad-Core Processor
1GB RAM
8 G.B. Internal Storage
Airsync Z compliant
Support External USB Wi-Fi, 4G, And Ethernet Connection
Fully 4K Ultra resolution @60fps and HDR 10 integrate
H.264, H.265 compliant
12-month Supcam Sharing Server
12-month Novaler Live T.V. and iFlix
READ ALSO: Starsat SR-200HD Extreme 4K UHD Receiver Review And Price
Novaler 4K Ultra Multibox Receiver Review
At first sight, as a user, you can see many features written on the carton aside the tutorial guide you can find on a Facebook dedicated page. While unboxing, the following items are available inside the carton: A Novaler 4K Multibox receiver, A USB Wi-Fi, A remote control, Power adapter, A user guide manual and warrant card.
The receiver's appearance is cool and unique, and the LED Light is in the middle and the Novaler 4K Ultra Multibox place at the right corner. Dual DVB-S2X tuners are at the rear side along with HDMI, A.V., Ethernet and Power port. The vent holes are at the bottom side and the standard metal on the top without design.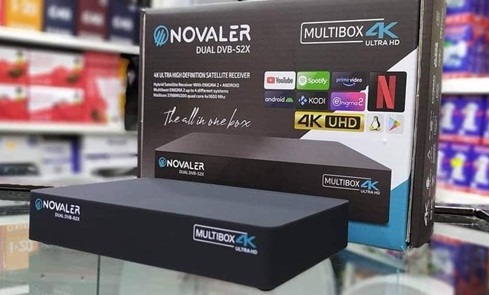 Dual DVB-S2X tuners can accommodate satellite dishes on each tuner with the maximum of four satellite dishes. Enigma 2 built-in takes responsibility to boot in different skin for four different systems.
Novaler 4K Ultra Multibox is powered by the most efficient Huawei Hisilicon 3798MV200 quad-core processor. Built-in 1GB RAM, and 8G.B. internal storage. The Linux O.S. give you access to install different plugins and change the system themes.
In connections, it supports 4G network through a modem, up to 5G connection through Wireless. The wire connection is faster as well, and USB 3.0 work faster than 2.0.
READ ALSO: Octopus 4K Ultra HD Digital Satellite Receiver Review
Supcam Server In Novaler 4K Multibox Receiver
Supcam server is super stable on Hotbird 13e, Astra 19.2e, opening most of the Sky Germany and Canal packages. Other European and Asian packages are confirmed working on the Supcam server.
Noval Live T.V. And iFlix
There's a 12-month IPTV subscription in Novaler 4K Ultra Multibox receiver. It hosts more 15,000 Live T.V. channels and more than 6,000 Video-On-Demand (VOD) across the world. Most of the contents are viewing at high-quality resolution. Unlike HD Box 4K Prime receiver with 12 month Sirius IKS and IPTV.
Pricing And Availability
Novaler 4k Ultra receiver is currently on sale in Algeria for as low as $250+ with the shipping fee and may include extra charges depends on delivery address.