Looking for an affordable and high-performance receiver, then I will recommend Octopus 4K Ultra HD receiver. Just in case you can't afford to buy an expensive one like Starsat SR-200 HD Extreme, then you can opt-in for Octopus 4K Ultra HD receiver. It comes with a 15-month Forever Server Pro and 12-month Apollo IPTV. Let's quickly check the Key specs and do the review later.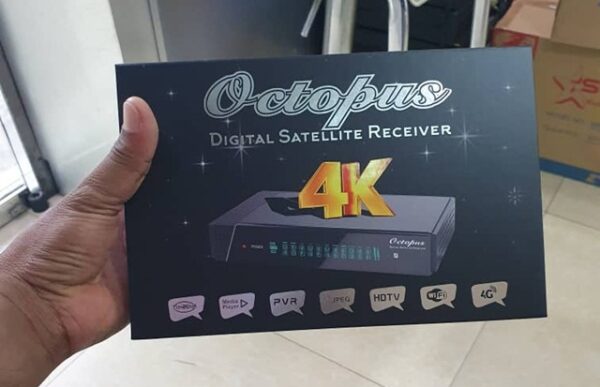 Key Specs:
DVBS/DVBS-2/DVB-S2 Modulator
Single Multi-stream Tuner
Ali 3510C chipset CPU
8MB Flash Memory
Support HEVC H.265 codec compliance
Autorole Biss And PowerVU
Support IPTV Protocols such as Myhd IPTV, Haha IPTV, Oscar IPTV, Atlas IPTV
12-month Apollo IPTV
15 month Forever Server Pro
Multi-Languages
HDMI and AV jerk
Wifi, 3G/4G USB connection
Youtube
Diseqc 1.0/1.1 USALS
Octopus 4K Ultra HD Receiver Review
The design is cool and attractive. The components and peripheral hardware are placed in the surroundings. 2x USB, AV output, HDMI, Tuner, Ethernet, and power adapter are all available. The power and display LED for standby and program status is found in the front panel.
With Octopus 4K Ultra HD digital satellite receiver, You can watch as many channels based on the location you point your satellite dish. Built-in Forever Server Pro of the latest version, you watch attractive packages such as Hotbird 13e, Hellasa at 39.0e, and Skynet at 76.5e.
During the test, Octopus 4K receiver is currently opening Skysport UK on Astra 2F at 28.2e.
12-month Apollo IPTV lets you watch your favorite tv show without the satellite dish. It hosts more than 7000 live TV channels and up to 5000 VOD contents.
Octopus digital satellite receiver supports auto roll both Biss and PowerVU. It built-in Multi-stream tuner capable of scanning and viewing multi-transponder channels.
Similarly, some channels or providers are using HEVC H.265 codec to deliver digital television to the consumer. Thanks to Octopus 4K ultra HD digital satellite receiver integrating the hardware.
Price And Available
An Octopus 4K receiver's unit price cost is N35,000 without the shipping fee to your location. You can contact me to place an order, and we accept PayPal, Skrill, Al-Ansari Exchange, and Western Union.