Dontel-Sat decoder seems to be one of the best digital satellite receivers with some features you need at an affordable price. There are many STBs in the market with minor or irrelevant specifications. Unlike Dontel-Sat decoder with key specs and satisfy your requirements.
Key Specs:
Fully DVB-S2 Compliant
GX6605 C.P.U. hardware
Fully support Multistream and T2MI.
Fully H.264 and H.265 compliant
Support IPTV (Xtream IPTV, M3U, and Stalker IPTV)
Support 3G Modem, LAN, and Wi-Fi
1year IKS account
Support DiSEqC 1.0/1.1
Support Manual PowerVu and Biss Key
Audio AC3 compliant
Built-in SAT2IP
Auto and Blind scanning
Support CCCAM and Magcamhd
Support Mobile remote control via App and Meecast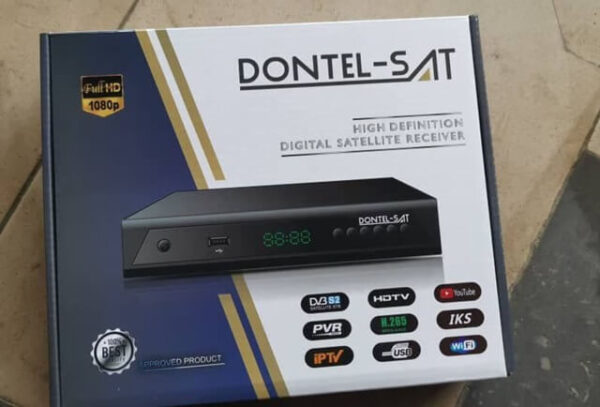 Dontel-Sat Decoder Review
On handy review of the Dontel-Sat decoder, It is fully dark in complexion with some holes on the top and bottom to prevent over-heating and light in weight. Dontel-Sat receiver features with single tuner for decoding DVB-S and DVB-S2 signals without a loop-out port.
READ ALSO: HD Box 4K Prime Hybrid Android And Satellite Receiver
Hardware And Software
Dontel-Sat receiver is powered by GX6605 chipset and DDR4, 8MB flash memory capable of accommodating great functions like PowerVU and Biss, IPTV, High-Efficiency Video (HEVC) H.265 decoder, works flawlessly without hanging. The Network connectivity for 3G, Wi-fi, and LAN confirmed working fine on the Dontel-Sat receiver.
Generally, the GX6605 chipset gives room for many great functions on the Dontel-Sat receiver, such as the IPTV protocols including Xtream, M3u, and Stalker IPTV. It also supports meecast, Phone Mirroring for watching satellite tv channels on mobile. You don't need to be worried if the remote control gets spoilt or stolen; there's a remote control app in the decoder. Built-in SAT2IP feature, and there's a 12-month IKS server in the Dontel-Sat receiver for opening satellite channels across Europe and Africa. Joytv's Multi-tv Ghana confirmed working along with Tara HD thanks to Multistream and HEVC H.265 hardware built-in features in the decoder.
READ ALSO: Mediastar MS-Mini Forever HEVC.H265 And IPTV Receiver
Dontel-Sat Decoder Price And Availability
A unit price usually costs N10,000 without the waybill charges, and If you are outside Nigeria, You can contact me for the appropriates price quotations with the transportation fee.