SLTV Africa is a digital satellite tv company managed and owned by Metro Digital and currently operating on Belintersat at 51.5e same position as that of TStv and Mytv Africa. This post will review SLTV, decoder, Satellite, frequency, the subscription price, and how to renew it and buy the decoder or Smartcard.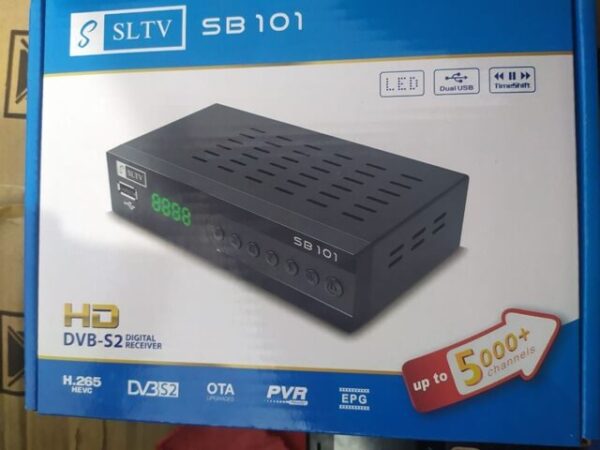 Decoder Key Specs:
DVB-S/DVB-S2 and DVB-S2X compliant
Support Multistream
Support HEVC H.265 compliant
Diseqc Switch 1.0/1.1 USALS
Support CCCAM/MGCAM
HDMI, AV jerk and USB Ports
Support Xtream IPTV protocol 
Blind Search
Support Youtube
READ ALSO: XR TV Sport Decoder, Price And Activation Code
Overview
SLTV Africa is the latest digital satellite premium service provider launched last year July. The Metrodigital company aimed to extends their service to Nigeria and their neighboring countries within the same region. Good news to football fans, it is an affordable price to catch live EPL, LA Liga, Champions League, FA Cup, and many more. You can also watch the documentary and many kids movies for your children.
SLTV Africa Satellite Frequency Parameters on Belintersat At 51.5E.
Dish Size: 60cm dish above
Satellite: Belintersat at 51.5E
SLTV Frequency: 11103
Polarization: Horizontal
Symbol Rate: 08333
For more details on satellite footprint, visit lyngsat.
SLTV Channels List
Cartoon
SSPL
SS Variety
SS Laliga
Discovery
SS WWE
Food Network
History
NAT GEO
Nat Geo Wild
ID
Disney
ESPN
MTV BASE
Nickelodeon
E!
CSB Justice
MBC2
SSFB
SS Variety 2
SS Variety 1
TNT
SS Action
Nickjr
CNN
READ ALSO: How To Watch Live Football Matches?
Decoder Price And Subscription
The unit price of the SLTV decoder cost is N16,500, including a one-month free subscription of N5,500 with the same amount to renew the subscription after it expired or before the due date. The Smartcard is confirmed working on any digital satellite receiver with card slot embedded such as:
Strong Technologies like SRT 4922A, 4950, 4961X and 4969X
Media star: MS-4030, Mini 1111, 1616, 1818, 2121, 2525, 2727
Starsat: T-15, X2, X7,
Tigerstar: T8HD Ultra, T3000
GTMedia: V7 And V8 series with Card slot option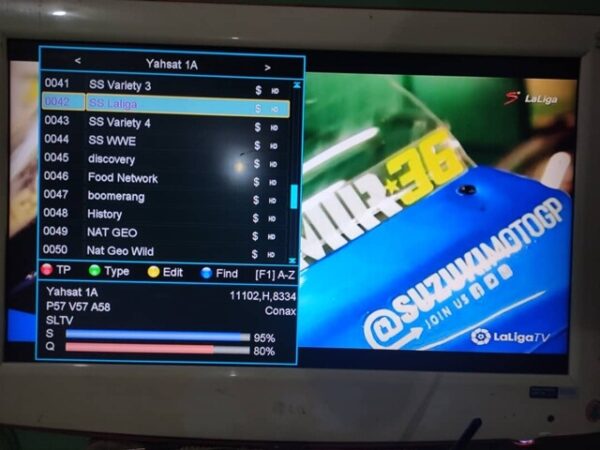 How To Renew SLTV Smartcard Subscription or Cardless HD Decoder
To renew your SLTV Smartcard, you need to send the Smartcard number to your provider or supplier to renew or follow the steps below for renewing your Decoder:
A HD decoder pointed with the active signal.
Decoder Serial Number, to get it: Press Menu>>>>>Settings>>>>>About STB/STB Information and copy out the Serial Number
Contact your Yayi decoder dealer or supplier to make the payment. If you don't have one, you can contact me to renew your SLTV subscription fast.
While making the payment, make sure your decoder is power on to monitoring the activation.
Once the dealer finishes renew your SLTV HD decoder then, the signal will come up instantly.
Where To Purchase The Decoder?
Getting the decoder or the Smartcard may be tricky as it is yet to be available nationwide in the market. You can place an order through me and get the SLTV Decoder, or Smartcard deliver to your doorstep within 48hour. Just hit my contact details to call or chat with me.