Yahoo or Ymail is alternative electronic service provider just like that of hotmail or Gmail. User needs to signup and create a unique Mail Yahoo ID, which you can use to send and receive texts and multimedia messages. There's enough storage space to save messages and others files of different formats. In this post, I will explain everything in details you need to know about Yahoo Mail.
About Yahoo Mail
The email service company was launched in 1997 by the American company called Yahoo. Later on, It is now subsidiary of Verizon. There are different email plans for personal use (Basic, Plus, and Ad free) and Businesses. In the early of January 2020, Yahoo Mail had 225 million users making it one of the biggest email service provider in the world.
The headquarter is located in Sunnyvale, California, and founded by two people namely David Filo and Jerry Yang. One of the best features in their Mail is, the nice customization, blocking spam messages and virus protection. You can also quickly search for old messages and get tons of messages related the search keyword.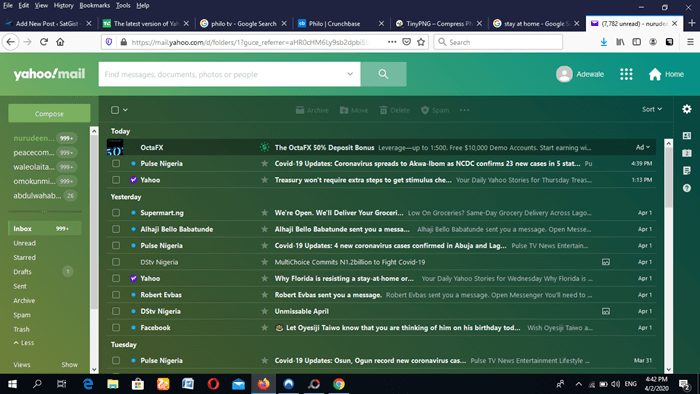 Key Features:
Send text and Multimedia messages
1TB storage more space than any other Email service provide
Virus Protections
Nice user customization
Allow non-yahoo Email service
Nice User Interface
Support Android, iPhones, iPads, TV Boxes, Roku, PC and Consoles
Absolutely free email service.
SEE ALSO:
Email Per Say
The acronym of Email is Electronic Mail, and a medium of communication through which you can receive and send messages (Texts or Multimedia). It was develop by Ray Tomlinson in 1960. At the end of 1970 it became popular and recognized by its primary objectives.
Be it for personal or business purposes, education or for shopping, Email has become a necessary tool for everyone. There are many websites out there offering free email services for free, believe me Yahoo is one of them. If you owned any other email account from another company, you can connect your account without using their parent app or platform.
According to Josh Jacobson, Who disclosed that it has been rated 2.1 million times with an average of 4.6 rating stars. He Also said that, it is one of the top productivity apps in the apple store.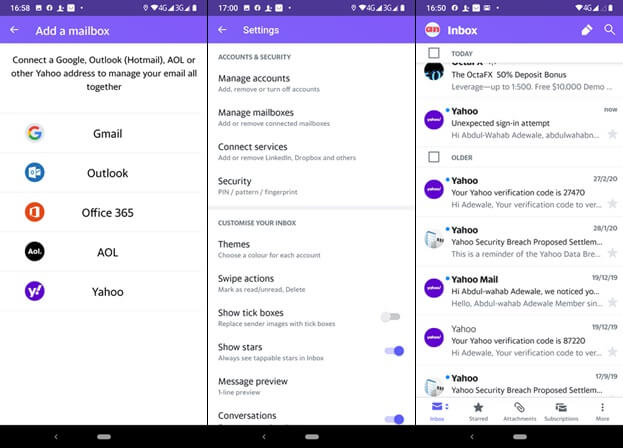 The Improvement Features On Yahoo Mail
Yahoo Mail always listening to the feedback posted by the user to Yahoo Team. The Team work on them and come out with series of version solving different problem. As at now, Yahoo Mail offers tons of unique views that can help you find anything without searching. focusing on particular content from your inbox.
You can easily views a number of photo or a file sent by your relatives in forms of attachment. In iOS device, you can view the best available deals, local deals and Grocery deals. The latest version out there enable you to view all your Email subscriptions, and the button to allow you to unsubscribe from any of the services.
Also on iOS only, there's package tracking and travel updates focusing on active updates on pressing and time-sensitive Emails. The Team releases new updates adding easy navigation bar at the bottom of the screen and refreshed the app's overall appearance. Using Yahoo Mail app to access non-Yahoo Email accounts is also a great features.
In Android, you can schedule when to receive notification, make choice among the available theme, manage mailboxes. You can connect or remove third party storage like dropbox and linkedin. For security, you can either use PIN, Pattern, and Fingerprint to login anytime you want to access your Yahoo Mail.
SEE ALSO:
Platforms Supported
Yahoo ID or login can be used to sign in on any supported devices such as Android phones, iPhones, iPads, Tablets and PC.
On Android
Just like any other available free email service provider, yahoo.com also offer their services through Android Mobile App. You can visit Google Play Store to download the latest version, install the app and fill in your Yahoo Mail login credential.
On iOS
iPhone and iPads users can visit Apple Store, search for Yahoo Mail, download the app and install it. Launch the app after finished installation, fill in your ymail account credential login.
On Windows
While in the office, You can safe your phone battery and access your Yahoo Mail account via any browser with the latest version, just visit mail.yahoo.com, enter your login details. Just in case you don't have Yahoo Mail account, No need to worries let's try to creates one.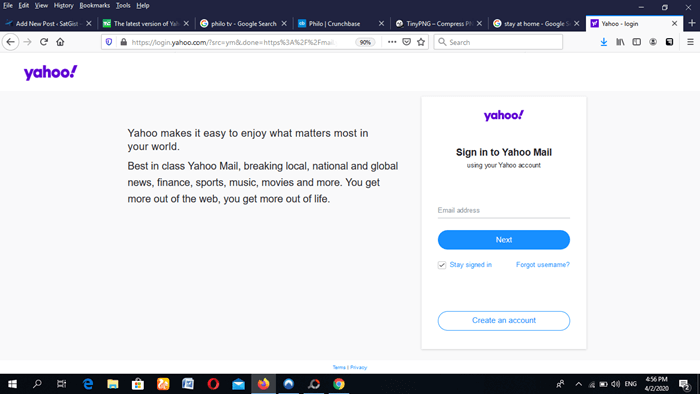 How To Create A Yahoo Mail Account
It get simple, to create a Yahoo Mail account, You need to follow the following steps:
Open your device browser be it mobile phone, tablet or PC
Enter Yahoo.com on the address bar of the browser and tap enter
Once the page finished loading, look for a Mail Option at the right hand corner and click on it
After opening another window, fill in your ymail account details.
Then click on Sign in (Already have account), But click on sign up (to create an account) if you don't have Yahoo Mail account before
Once another window is opened, enter your surname, first and last name
Fill your unique Mail ID you preferred to use (satgist@yahoomail.com)
Fill other necessary details as requested such as occupation, date of birth and so on
After the registration is completed, a validation OTP code or link will be send to your phone number used to confirm that you're not a robot.
Enter the digit and click on the next option
Read the policy terms and condition before click on "I agree"
Then you have successfully create a new Yahoo Mail account
Note: It is good to master or write down the sensitive data used to created your ymail account such as password, phone number, recovery question and answer, in case you lost the password. All these sensitive data can be use to recover your Yahoo Mail account.
It is highly recommend to use the combination of Capital, small letters, numbers and special characters for your password to be more secured from the internet fraud or cyber attacks. Don't ever reveal the password for anybody and keep it in a safety place. Don't use any name related to your personal name while creating the password.
What Benefits Can We Get From Creating A Mail Yahoo Account?
After creating a Yahoo Mail account, You will get a free unique Mail ID account with 1TB of storage for free. This is huge amount to store all the text and multimedia files. You can also have access to use or manage another Email service from another company like Gmail or hotmail within the ymail account.
There's auto reply mode option if you're busying or in vacation period like this time stay at home of coronavirus pandemic.
Accessing YMail Account Via IMAP/SMTP
It further provides its electronic message services to the users via IMAP/SMTP (Internet Message Access Protocol) on both Mobile and desktop. In this case, you don't need to visit yahoo.com before you can access your account.
Websites/blogs use this type of program to create a unique ID and port-forwarding the message to the Yahoomail account like Admin@satgist.com. All the web-hosting like Namecheap offers port-forward email to their client as long as you have active hosting plan with them.
Other users with web-hosting can use Outlook, Mailspring and Mozilla Thunderbird to manage, send and receive emails. Due to big screen of desktop, thereby provides easy navigation and saves your time.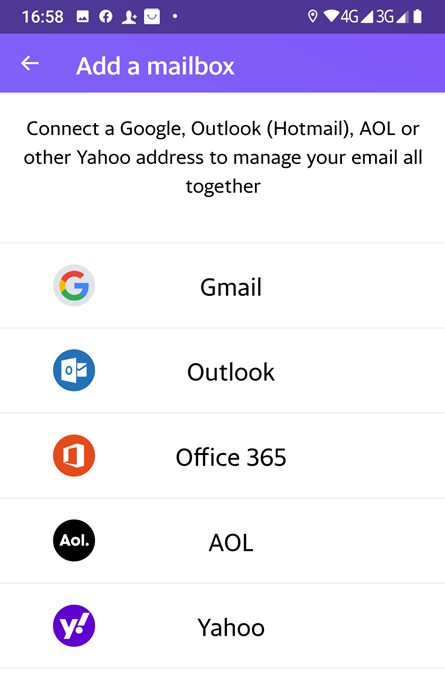 IMAP/SMTP Configuration Settings
IMAP Settings:
| | |
| --- | --- |
| Server | imap.mail.yahoo.com |
| Port | 993 |
| Protocol | SSL / TLS |
| Username | Your unique Email ID (Email Address) |
| Password | A sensitive data (containing Letters, Numbers, And Special characters) |
SMTP Settings:
| | |
| --- | --- |
| Server | smtp.mail.yahoo.com |
| Port | 465 |
| Protocol | SSL / TLS |
| Username | Your unique Email ID (Email Address) |
| Password | A sensitive data (containing Letters, Numbers, And Special Characters) |
Frequently Asked Questions And The Answers
1. How to access my Account?
You can login and manage you account by log on "mail.yahoo.com.
2. Can anyone access to my account from anywhere, if they get my login credential?
No, It's not possible, because yahoo will prevent them from accessing your account. The new IP address will be detect and request for the user to be verified by sending an OTP code to the registered phone number. Without an OTP, such user or perpetrator will be prevent from accessing your account.
3. Can I remove or change my mobile phone number?
Yes, you can change or remove your mobile phone from your Mail account. It is highly recommend to add another mobile phone number or add secondary email. These can be used to recovered your account if you forgot your password or your account get locked.
4. How can I recover my Mail Yahoo Account if I Forgot My Password?
This is simple, To reset your password, visit mail.yahoo.com, then enter your Email address, and click next option. After the new windows is open, Click on "Forgotten Password" under Next button. Solve the captcha and click continue. On the new window, Select your preferred "Verification Method" either mobile phone number or secondary Email. An OTP code will be send to anyone of the verification method used. Once you enter OTP code, it will automatically open another window, where to enter the new password. Remember to use combination of capital, small letters, numbers and special characters. Make sure you keep it in safety place.
5. Which Verification Method More Secured?
Well, I prefer using mobile phone number, because it doesn't require internet connection to receive an OTP code. Unlike secondary Email address requires internet. With mobile phone number, you can enable 2FA (Two Factor Authentication) on your account. I think this is fast and more secure than using secondary Email.
SEE ALSO: