Towards the end of July and early of August, Both AFN and Beout Sport went off in Satellite TV world. Today I'm gonna give Satellite TV World updates on Beout Sport, AFN, TStv, IPTV, MYHD IPTV, Sony Entertainment Network and the possible way of watching live football live streaming and on Satellite TV platforms.
Why Beout Sport Went Off?
To understand this post in the right perspective, Then you must know what is really mean Beout Sport, Let me quickly give you details about Beout Sport.
What is Beout Sport?
Beout Sport is a pirate digital pay television broadcaster serving Saudi Arabia. It was founded in 2017, It was established to against Qatar based pay tv Bein Media. Beout Sport simulcasts the tv programming of Bein Sports, with their own air-logos overlaid Bein Sports logo.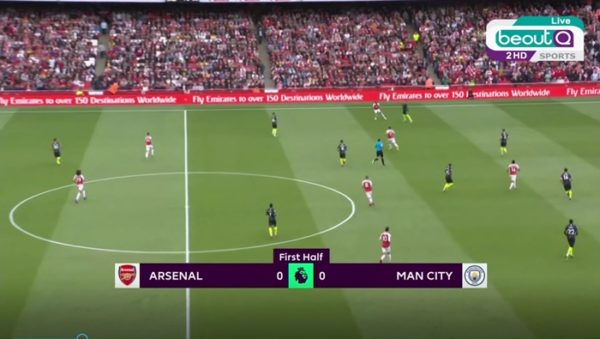 It become the greatest threats to the future of the world of sports and entertainment industry. Beout Sport using Arabat to deliver the digital piracy services though it was introduced to break the monopoly of Bein Sport.
Back to the reason why Beout Sport went off. Ever since it was launched and pirate Bein Sport. Beout Sport has become great threats to the world of Sport and entertainment. Most of the Football Association bodies which includes premier league and FIFA condemned the action and the legal action has been taken against the Beout Sport to stop the illegal services. It was also reported that Bein has issued warning to the premier league clubs that the next broadcasting deal could be burst due to theft.
To cut the story short, Beout Sport has been forcefully shut down due to high pressure from the football association on till further notice. It is reported that the illegal streamer keep increasing everyday and it now reaches more than 5,000 streamer. The best alternative for footy fans is Cosmote Sport as it have everything to deliver.
SEE ALSO:
AFN Network Channels
It was among the most enjoyable PowerVU channels ever since it was introduced. Afn Network has implement new PowerVU Algorithm to protect their content from unauthorized use. Yet I can't rule out that AFN Network couldn't be watch in the future.
AFN channels are available on different satellite, but the best among them receivable globally is AFN on Eutelsat 9A at 9E Satellite. It ggood for watching live sport, News, TV Shows and movies.
Sony Entertainment Network Channels
Besides AFN Network channels, Sony Entertainment channels is another fantastic PowerVU channels. You can watch hollywood and Asian movies both action and series. It is a good satellite channels and a must for every home. Yet Sony entertainment still working on some decoder, hopefully soon other satellite decoder manufacturer will release new software to fix Sony Entertainment channels.
TStv Saga On English Premier League
It seems TStv really mean business this time because, It shown every EPL games start from the first day. You need to buy their set-top box to enjoying the opportunity as the company begin to scramble their channels on free-to-air decoder. The only thing that baffles me on TStv is signal problem I don't know if the TStv signal won't be off as usual.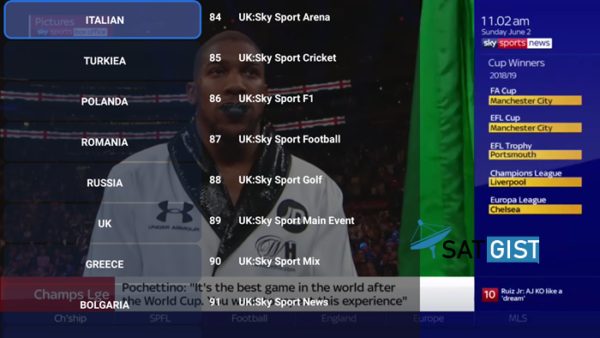 IPTV
IPTV is the best solution for now because you can watch anything you like. I learn't that majority of the people here in Africa as a whole find it difficult to use IPTV. To enjoying IPTV fully, then you must have the following:
If you can meet up with up the requirements stated above then you won't have any freezing while using IPTV.
MYHD IPTV Subcription
MYHD IPTV is one of the most widely used IPTV subscription, because the protocol usually features with most of Satellite Receiver as default. Likewise Android TV Box users can visit google play store to download the latest version. I have been using MYHD IPTV subscription for the past 4 years now without issues. One of the reason why I like it is that, MYHD subscription code can be reset and use on another box if the current box faulty. The subscription cost is cheaper for $50 per year.
List of Satellite TV Decoder Support MYHD IPTV
Tiger Decoder: Tiger T3000, Tiger T3000 Mega, Tiger T800+ mini Full HD, Tiger M5 Super, Tiger T8HD Ultra, Tiger T20 Range, Tiger T245+ lazer and so on
Starsat Decoder: Starsat Extreme 2000HD, Starsat Extreme 90000HD, Starsat T3, Starsat SR-X1 Extreme 4K, Starsat SR-X3 Extreme 4K
Mediastar Decoder: Mediastar Z2 diamond, Mediastar Z1, Mediastar X1, Mediastar X2 and so on
Geant Decoder: Geant 950 OTT, Geant OTT 750 4K and so on
Icone Decoder: Icone Iron, Icone Irone plus, Icone Ice and so on
Xcruiser Decoder: Xcruiser XDSR 585HDR, Xcruiser XDSR 765HDR, Xcruiser XDSR 785HDR
To purchase is simply easy just hit anyone of my contact address here. Alternatively, Xtreme IPTV activation subscription code is available too which support almost decoder stated above.
Final Verdicts
Beout Sport is currently shutdown due to pressure from the right holders for copyright infringements. AFN Network is currently down on almost PowerVU decoder as we are waiting for the fixing soon. Likewise Sony Entertainment Network is still working on some decoder but not all. Lastly, IPTV is the best solution for watching any football shows with good internet and iptv subscription like MYHD and Xtreme IPTV.