DStv IPTV Account is now trending now as our dear readers keep requesting for the price. Yet, I need to take a tour and let's see the features it entails and how it works. That's why I took the DStv IPTV Account test to check it by my self using Android Phone/TV Box using Dynamic IPTV App.
Disclaimer:
This post is for all intents, informative, educational and developmental purpose as it may go against of watching pay tv without official subscription, using this contents where it is not allowed may be put you into trouble, henceforth users/readers discretion is strongly advised and Satgist won't be liable for any damage.
DStv IPTV Account Review
While testing the DStv IPTV Account on Android Phone and Android TV Box. I discovered that it features with great server handled by competent personnel. My first testing was so annoying simply because it wasn't stream smoothly request for 3mb/s to work smoothly. After a while, I decided to lodge the complaints to the seller and it improves the server so that low internet receptions can stream at the same quality picture so that it can play well in Africa as we are limited with low speed network.
After the response from the DStv IPTV Account seller, believe me it works great with an amazing stability. If you are from Africa, Most especially from South Africa, DStv IPTV features with almost all the South African Supersport channels.
DSTV IPTV Account features with 10,000+ channrels with different quality picture range from 1080p up to H.265 and 4K ultra.
Not only the Supersport South Africa are there, It also features Bein Sports, Sport TV Portugal, Sky Sport UK, Sky Sport Germany, Eleven Sport and so on.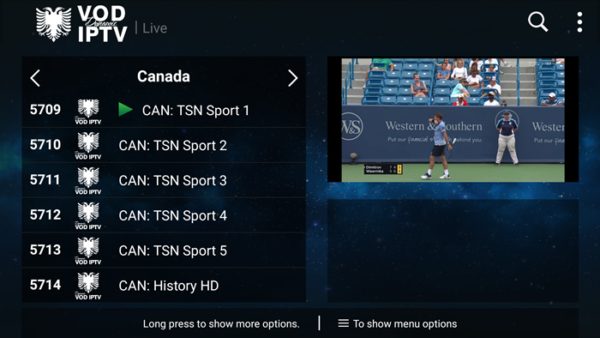 Both Americana and Canadian can watch MBL games live on ESPN Deportes, While TSN channels will offer MLS, Premier league, NBA, UFC Fight Night on Fox Sport.
Africana living in European or US or anhwherr you find yourself, DStv IPTV Account is the best for you to watch your countries local channels. Under African, Dstv IPTV Accouny features with 753 streaming channels across African Coubtries local channels and thereby promotes African culture and heritages.
Australian and New Zealand can watch AFL and others footy via DSTV IPTV Account via Fox sport and 7flix channel.
SEE ALSO:
DSTV IPTV Account Countries Channels Support
Netherland
Sweden
Norway
Denmark
Finland
Iceland
OSN and Al Majid
Bein Media
Beout only Movies working
Arabic FTA
Hebrew
United Kingdom
France
Spain
Germany and Austra
Turkey
Belgium
Poland
Greece and cyprus
Portugal
Switzerland
Italia and Malta
USA
Canada
Latino
Carribean
Brazil
Caucacus
Australia and New Zealand
Russia
Bulgaria
Romania
Czech and Slovakia
Baltic
Hungary
Albania
EX-YU
Macedonia
Slovenia
African
Indian
Pakistan and Bangeladesh
Singapore and Malaysia
Filipino
Myanmar
Thailand and Cambodia
Vietnam
China, Taiwan And Hong Kong
Korea And Japan
Indonesia
Iran
Kurdistan
Afghanistan
24-7 Channels
Music
Radio
Uncategories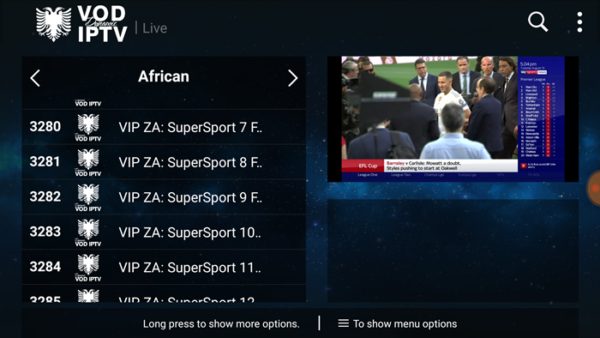 How To Install Dynamic App For DStv IPTV Account On Android TV Box Or Android Phone
To enjoying this iptv services fully on Android TV Box or Android Phone, you must install Dynamic App and you can download Dynamic App via this Link. Then follow below steps:
Install the Dynamic App on your Android TV Box or Android Phone
Launch the app
Type your name
Enter the "Username"
Enter the "Password"
Type the "URL with Port" e.g satgist.com:80/
Then tap on "Add User"
Wait for the App to load the channels list
Then you are good to go and start streaming
How To Load DStv IPTV Account On SRT 4922A/4950M/H
To load any iptv account on Strong decoder or any decoder that support m3u file playlists then you need to follow the following steps:
Download the Playlists file from the m3u links given by the seller
Copy the file into the virus free flash drive
Insert the drive into your decoder via USB port
Press menu>>>>file manager>>>>>software>>>>locate filename.m3u and press ok
Wait for the decoder to upload the file and finish reboot
Press F2 to get IPTV channels playlists and start streaming your favorites channels.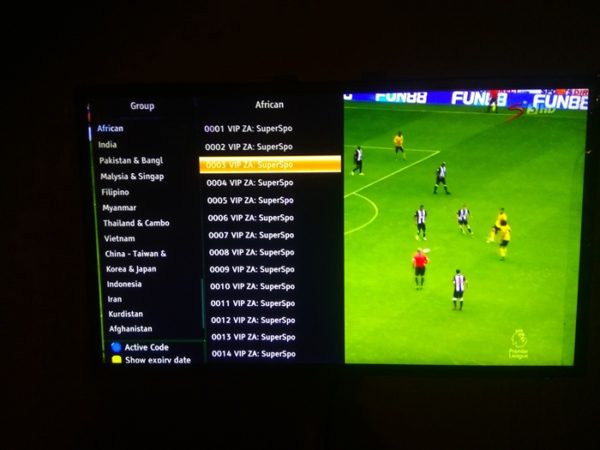 How To Load IPTV Account On Tigerstar M5 Super And Range T20 Decoder
To load iptv account on Tiger decoder via Xtreme IPTV protocol on your Tigerstar M5 Super or Range T20 decoder, You can follow the steps below:
After Setting up the Internet either via 3G or WiFi
Then Proceed to IPTV Menu by Press Menu>>>>>IPTV>>>>>Xtreme IPTV
Enter "URL"
Type in "Port"
Enter "Username"
Type in "Password"
Type "Live"
Click on "Save"
Wait for few seconds to load IPTV Channels lists and start flexing.
Price And Availability
According to the seller, It is $10/month, around N4,000 which I think it isn't affordable for Nigerian or African before subscribe to any data plan. I will strongly advice you to stick to your DStv decoder/subscription because it doesn't entails all the DStv channels except South Africa Supersport channels. And if you do the calculation, DStv still the best and affordable.
If you enough active internet data plan and you have financial capability to buy it, then I can advise you to buy it, because it features with everything you need to watch either on live events and video on demand (VOD).
However, foreigners can subscribe because they have cheaper internet data plan and the subscription for DStv IPTV Account is affordable when compare to other streaming plan in the overseas.
Final Verdicts
In case you are new to IPTV stuff, I suggests you to read from my previous article on IPTV mode of operation and How it works. Also if you don't know whether your country doesn't against streaming then you need to be in safer side by read my article on legality of IPTV in Europe and others countries.