TStv Africa: The First Nigerian DTH Service
This issues of how to track TStv Africa has become viral across the major social media like facebook, Instagram and Twitter, Today's tutorial will cover the dish size, footprint, satellite, position, frequency, polarization, symbol rate, TStv Channels Lists and how to track TStv Africa Successfully without much stress let's get started.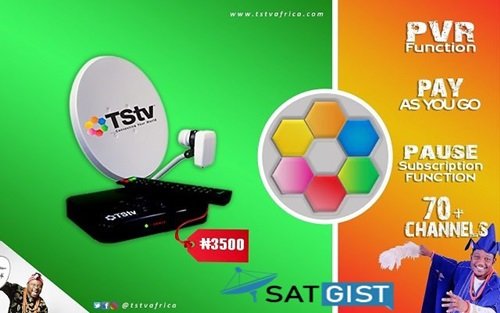 About TStv Africa
TStv is a Nigerian based Satellite tv provider owned by Mr Bright Echefu and aimed to offering affordable DTH and pay as you go subscription along with Internet Service to the people of Nigeria and as well as the neighboring countries to end the monopoly of DStv and Canal Africa as the top African Satellite tv Service Provider.
It was first introduced and launched in 2017 at their head-quater office in Abuja, Actually, things not going well as the company battled with technical maintenance which left their channels available for free for many month switching from one satellite or position to another which also prompt to change frequency, polarization and symbol rate to another.
However, TStv has finally overcome technical problem at the end of last year and allow public to enjoy their channels for free before the company begin to selling their official digital satellite receiver and subscription not yet applied because the channels still available as free-to-air channels.
Satellite, Position And Footprint Details
TStv Africa now fully operate and running on Intelsat 12/904 at 45.0°E very close to Nagcomsat-IR at 42.0E, If you are professional satellite tv installer, you should be able to get both Nagcomsat-IR and Intelsat 12/904 together using minimum of 90cm dish above.
According to Lyngsat, The signal footprint covers almost all the African countries excluding North Africa, TStv covers others region without stress an installer can easily track and get the signal within few minutes with minimum of 60cm dish above but if you want combine Nagcomsat-IR and Intelsat 12/904 at 45.0°E together using single dish and lnb as like I have said earlier, you need to use 90cm dish and also needs to know how to adjust satellite dish and lnb.
TStv Africa Frequencies, Polarization And Symbol Rate
These are the satellite tv parameters which can be use to get the channels such as Frequency, Polarization And Symbol Rate as follows:
TStv Africa Frequency/Transponder N0: 1
Frequency: 11595
Polarization: Vertical
Symbol Rate: 30000
Frequency: 11556
Polarization: vertical
Symbol Rate: 30000
TStv Africa Frequency/Transponder No: 2
Frequency: 11513`
Polarization: Vertical
Symbol Rate: 30000
TStv Africa Frequency/Transponder No: 3
Frequency: 11476
Polarization: Vertical
Symbol Rate: 30000
TStv Africa Channels List
NCTV
Investigation Discovery
PRESS TV
CGTN DOCUMENTARY
DW English
Dubai One
AIT INTL
EWTN Africa
Discovery Family
Olive TV
Silverbird
BJ Kids
FOX SPORTS
FOX News
Channelstv
DOVE TELEVISION
NHL WORLD_JPN
Wazobia Max
NAT GEO WILD
Hits Tv
Hits Africa
BRIGHT TV
A1 Kids
Grande Gospel
Nova TV
Al Jazeera English
CGTN
BBC world
Jul Fashion
AHTV
Mama Africa Igbo
Mystery Doc
TLC
English Club
1 Movies
TRT World
Preach TV
Liberty TV
Mama Africa Movies
Mama Africa Hausa
TRUEAFRICAN
Mama Africa Yoruba
AFRIWOOD SERIES
LIFE TV
FRESH
KIDDWINKS
LOL
SPORTS CONNECT
PULSE TV
ROMANZA AFRICA
Cinema Hausa
EMMANUEL TV
NTA INTL
Grande Sport 1
MBC Action
MBC 2
RT News
MBC MAX
Salam Tv
France 24 Eng
IQRAA
True Crime
Bath Food
WAP TV
Grande Comedy
TVCNEWS
Sunna TV
Discovery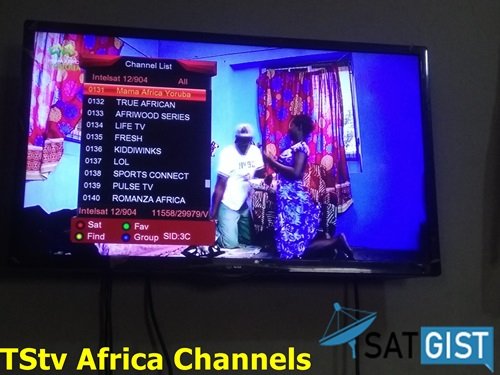 Requirements Needed:
Digital Satellite tv Receiver or 4K Satellite Receiver (Preferably)
60cm dish with LNB
Satellite Finder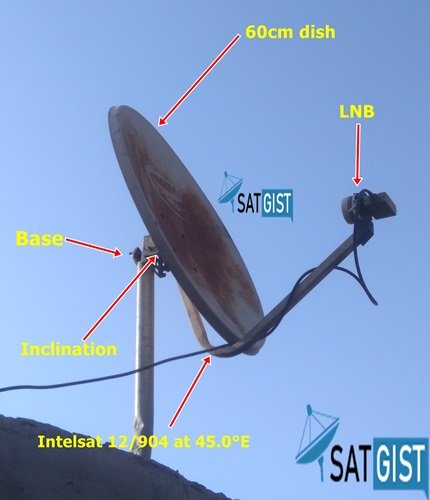 See Also:
How To Track TStv Africa Channels Using 60cm dish
First and foremost, I always recommend to track DStv using Eutelsat 36A on frequency 12245 H 27500 or 11900 H 27500 and make sure you achieve 97% signal quality and the base a little bit as well as inclination of the dish
Change the frequency to anyone of the above stated TStv Africa Frequency preferably use 11595 V 30000
Gently drop your dish and set your eyes on signal finder or on your tv screen to monitor the point where the signal will comes up and sometime you may need to shift the base of the dish to the left side by 1-2 inches while standing at the back of the dish
Once you hit the signal, then tight the nut at the base and as well as the inclination, then try to twist the lnb to increase the signal.
Connect your dish to the receiver and manually scan or use blind scan to get all the Channels stored on your receiver.
Then you are done with installation of TStv Africa channels and start enjoying your tv shows in high definition.
Conclusion
TStv Africa is the latest and best digital free-to-air service provider that promote African Cultural Heritage, religion, Sport, Documentaries, Movies and Kids show for your moment of relaxation. It is available for free without monthly subscription operates on Intelsat 12/904 and TStv Frequency has been stated above. For more details, always visit official website.Don't forget to share this tutorial with your friends and across social media.