Mediastar MS-Diamond Z2 is one of the top selling satellite tv receiver across North Africa, Middle-East and European Countries most especially in Turkey, UK and Germany.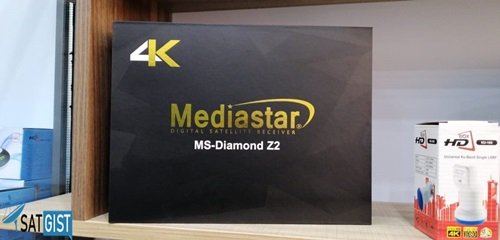 MS-Diamond Z2 Review
However, Mediastar MS-Diamond Z2 have 15month pre-loaded Forever server Pro 126, 12month Apollo IPTV and others iptv options like MYHD IPTV, Sham IPTV, Platinum IPTV and many more.
MS-Diamond Z2 4K support high sensitive twin tuner for receiving satellite tv signal and Mediastar Z2 is powered by Android 7.0 (Noughat), Quad-core processor with DDR4 flash memory, 2GB RAM, 8GB Internal Memory and support 3D and 4K Ultra HD video output.
MS Diamond Z2 features with the most consistence forever server 125 capable of opening many satellite tv package which includes Eleven sport HD, Nova Sport, Canalsat HD and Beinsport on Hotbird 13e, Nilesat 7w, Hispasat 30w, Astra 19e, Arena Sport HD, Sport Klub, Sport Albani HD Eutelsat 16e and so on.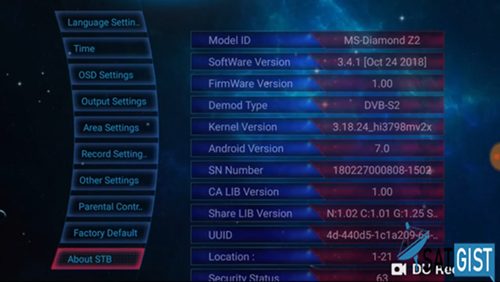 MS-Diamond Z2 4K Full Specs
DVBS/DVBS-2 Twin Tuner
Android 7.0(Noughat)
3GB RAM, 8GB Internal Memory
DDR4 Flash Memory
Quad core processor
Support 4K video output at 60fps 2160 x 3840
Extra air mouse Keyboard
Support bluetooth and in-built Wi-Fi
Autorole PowerVu And Biss Key
USB Port for connecting hardware or external drive
Lan Port
AV Output
MicroSD card Slot support
2.0 HDMI Output
3G Modem Support
IPTV, G-IPTV, G-VOD, m3u and m3u8 files
Twin Protocol, SSSP and other protocol
Support Disequc 1.0/1.1/1.2 USALS
Online Software upgrade, USB and Fastboot Mode
Multi search and blind scan
Software Support via Mediastar web page.
MS Diamond Z2 4K Price And Availability
Mediastar Z2 available at $250 without shipping fee and you have to contact me and tell me your country name with postal code so that we can trace your location and give you the correct shipment fee usually it takes 3-7 days delivery if it is not a remote area.
SEE ALSO: