Mediastar MS 4030 4K receiver is one of the top selling satellite IPTV receiver across North Africa, Middle-East and European Countries most especially in Turkey, UK and Germany.
Mediastar MS 4030 Key Specs
DVBS/DVBS-2 Single Tuner
Powerful Ali-2661 CPU
4GB RAM DDR3, 8GB Internal Memory
16MB Flash Memory
Quad core processor
Support 4K video output at 60fps 2160 x 3840
Support bluetooth and in-built Wi-Fi
Autorole PowerVu And Biss Key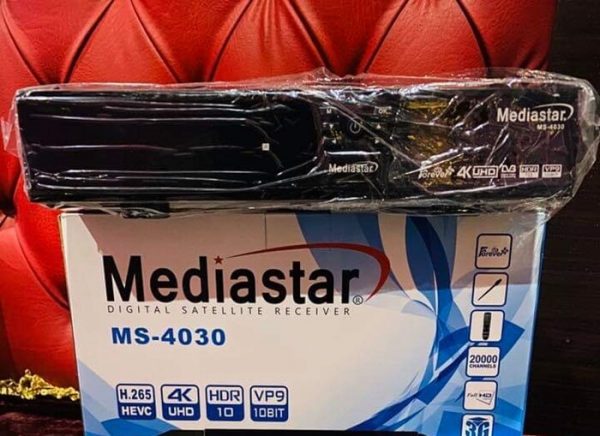 Mediastar MS 4030 4K Receiver Review
Here are what we found on the hand review to guide you before you buy this receiver, read on….
Body And Design
The structure almost like Mediastar MS Diamond Z2, but not come with Android operating system. While unboxing, I found free USB WI-FI antenna, two USB port for external storage or peripheral. However, It doesn't support air-mouse controller. HDMI, AV, RJ45, and coaxial ports are all available in the receiver. The panel is unique and beautiful as well.
DVB-S2
Mediastar MS 4030 4K receiver support three dimensional tuner including the newly invested Multi-stream (DVBS2X). It accompanied with the powerful signal tuner with the possibility of amplifying weak signals. Another great features is the ability to search multiple satellites simultaneously.
The ability to search multiple frequencies and transponders together. It also support diseqc switch 1.0/1.1/1.2 USALS. There's spectrometer option to check the signal level of different frequencies together.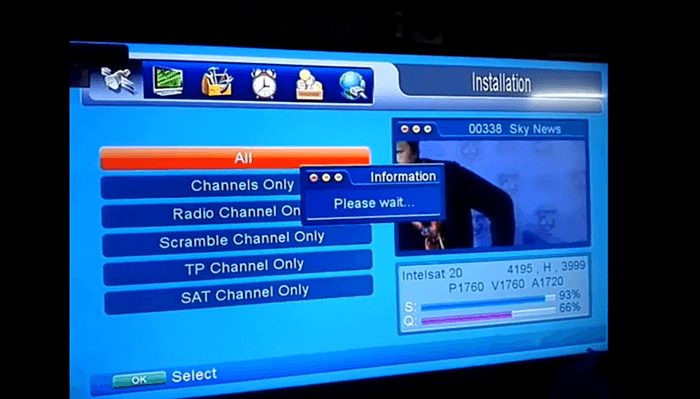 Hardware And Software
Mediastar MS 4030 4K receiver is powered by powerful Ali-2661 CPU, Dual core at 1GHz. The system memory is 4GB RAM DDR3. Since it is satellite IPTV receiver, the internal storage is 512 MB operating at high speed.
The software flash memory is 16 MB powering two different unique menus, with continuous updates for different users. MS 4030 4K receiver support 4K 60fps 2160 x 3840 resolution. HDR, HLG, and WCG hardware behind the 10 bit color in-depth of VP9 and H265 codec.
On the protocol menu, there are server protocol such as cccam, newcam, and others. Also there's new coding system for Tandberg, PowerVU, Biss, and as well as support manual key input key protocol.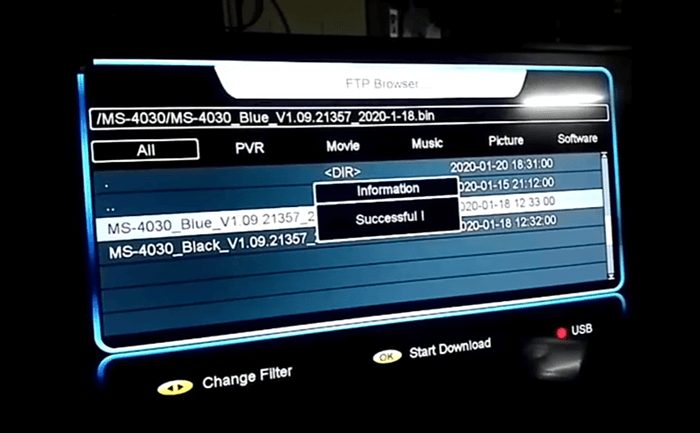 Forever Server On Mediastar MS 4030 4K Receiver
However, Mediastar MS 4030 4K receiver have 15month pre-loaded Forever server Pro 130, 12month Apollo IPTV and Forever IPTV and Forever VOD.
MS 4030 4K receiver support high sensitive twin tuner for receiving satellite tv signal. MS 4030 4K receiver is powered by Ali-2661 CPU, Quad-core processor with 16MB flash memory, 4GB RAM DDR3, 8GB Internal Memory and support 3D and 4K Ultra HD video output.
Mediastar MS 4030 4K receiver features with the most consistence forever server 130 capable of opening many satellite tv package which includes Eleven sport HD, Nova Sport, Canalsat HD and Beinsport on Hotbird 13e, OSN on Nilesat 7w, Hispasat 30w, Astra 19e, Arena Sport HD, Sport Klub, Sport Albani HD Eutelsat 16e and so on.
Mediastar MS 4030 Full Specifications
DVBS/DVBS-2 Single Tuner
Powerful Ali-2661 CPU
4GB RAM DDR3, 8GB Internal Memory
16MB Flash Memory
Quad core processor
Support 4K video output at 60fps 2160 x 3840
Support bluetooth and in-built Wi-Fi
Autorole PowerVu And Biss Key
USB Port for connecting hardware or external drive
Lan Port
AV Output
MicroSD card Slot support
2.0 HDMI Output
3G Modem Support
IPTV, G-IPTV, G-VOD, m3u and m3u8 files
Twin Protocol, SSSP and other protocol
Support Disequc 1.0/1.1/1.2 USALS
Online Software upgrade, USB and Fastboot Mode
Multi search and blind scan
Ability to edit satellite
Multi-image and recording capability
G-MScreen, DLNA DMR, DLNA DMP
Support SAT2IP
SSSP and Twin Protocol
Online Software Upgrade via company FTP server
Technical Support visit company official website
Mediastar MS 4030 4K Receiver Price And Availability