To send a bulk emails on Outlook is simple once you know the steps. In this article, I will share you the most effective methods that you can use to send mass emails in outlook. I am confident that you will find these methods a lot easier than other approaches.
Before we get into the easy methods to send a bulk email on Outlook, let's take a look at the problem first. For most people, they want to send mass emails to friends, family, colleagues, or their boss and to add contacts as well; this is important.
6 Easy Steps To Send A Bulk Email In Outlook
Outlook allows you to send a bulk emails to your contact using "Microsoft Word". Just follow the easy and simple steps involved:
1. Open Microsoft Word and enter your email.
2. Open the "Mailing Ribbon" option in the Word dashboard.

3. Tap on the "Start Mail Merge" Menu, then on Email Messages in the drop-down menu

4. Tap on to "Select Recipients" and select from the available three options:

Type a New List: An option where you will manually enter contacts' data into a new dialogue box
Use an Existing List: An option that allows you to choose a.csv (Excel) file from the computer. The .csv file would need to have been under processing in advance with data organized usually found on the three columns (First Name, Last Name, Email Address)
"Choose from Outlook Contacts" You've to choose the address manually withing your existing Outlook contacts
5. Once the "Recipients" have been selected, then click "Finish and Merge" and then send Email Messages.
6. In the Merge to Email Pop-up dialogue box, enter the email subject line and then press enter or click OK. You've send bulk emails to the contacts
Alternative Method On How To Send Bulk Emails In Outlook
Step 1
Tap on the "Contacts" icon option.
Step 2
Press and hold the "Control" key on the keyboard and click on the contacts you want to include in the bulk email. You can also press "Control-A" to select all the contacts on the list. Then click the "mail merge icon" option when you're done.
Step 3
Tap on the "Only Selected Contacts" bubble, and then select "Email" from the "Merge To:" drop-down small window.
Step 4
Write the subject line in the text box and click the "OK" button. Microsoft Word launches and opens a new mail merge document.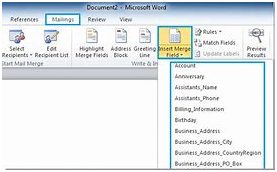 Step 5
Type your email message.
Tap on "Finish and Merge," icon option select the "Send Email Messages" icon and click the "OK" button in the confirmation dialog box to send the email. Then you've successfully send bulk emails to the contacts.
Very simple? Now let's discuss something about the set-back of sending bulk email campaigns using Outlook.
Why You Should Not Send Mass Email in Outlook
By default, Outlook isn't designed for sending bulk emails, unlike dedicated email marketing services. Using it for this benefit, you will easily be frustrated by the following reasons:
300 Emails Limits: Outlook put limits to the numbers of emails one can send per day to 300, unlike the most Internet Service Provider.
No Design Features: lack of email design features such as coding resources and templates
Absence of records or Analytics: No analytics features to monitoring the performance of the emails campaign
Bulk Emails sent from ISP(Gmail, Yahoo, Outlook, e.t.c) are usually flagged as spam by the other email recipients and ISPs. Simply because Webmail such as GoDaddy Webmail is designed for personal use, this activity is regarded as suspicious.
Higher possibilities of your mail server IP addresses getting flag as a scam and put on the blacklist, which means, other servers block it.
Why It's Recommend To Send Mass Emails Using An Email Marketing Services:
Emails marketing still maintains the most extensive marketing channels, claiming an ROI of $32 for each $1 spent. To benefit that type of ROI, then you'll need to invest in a dedicated email marketing campaign like Sendinblue because Outlook only won't deliver it.
Yet, there are tons of such providers in the market providing a range of unique features at different price. To get the best one for your needs, then check out the Email marketing comparison guide on the website like Sendinblue.
In this way, you will be able to send mass emails, and this is a great way to keep your friends and family updated about the latest happenings. It is also an excellent way to add people to your mailing list without having to enter the information each time.
I hope this article helped you understand how to send bulk email using Outlook and it helped you get started.
SEE ALSO: