It is Flamengo VS Liverpool in the FIFA Club World Cup 2019 Final today. It will featuring Liverpool (England) against Flamengo (Brazil).
The Reds booked their spot in FIFA's Club World Cup Final in Doha following late strike from Roberto Firmino against Monterrey from North America.
Flamengo won America Copa Libertadores to make a way to the tournament and later defeated Al-Hilal 3-1 on Tuesday at Semi-Final stage.
The winners from each continents which claimed to equal as UEFA Champions League has battled out with each other in this month. Now it is Final Liverpool VS Flamengo
Brief Background of FIFA Club World Cup
According to the history, since 1960 up to 2004, UEFA and CONMEBOL played the Intercontinental Cup, which allows the winners of the Copa Libertadores and Champions League winners to meet in a one-off final.
For the past five years, Spanish has been dominating as Real Madrid won the tournament in 2018, now it turns to England as Liverpool is the favorite team to lift the FIFA Club World Cup 2019 trophy. No need worry, I will show you how to watch FIFA Club World Cup Final 2019 on Satellite TV and live stream while on the go.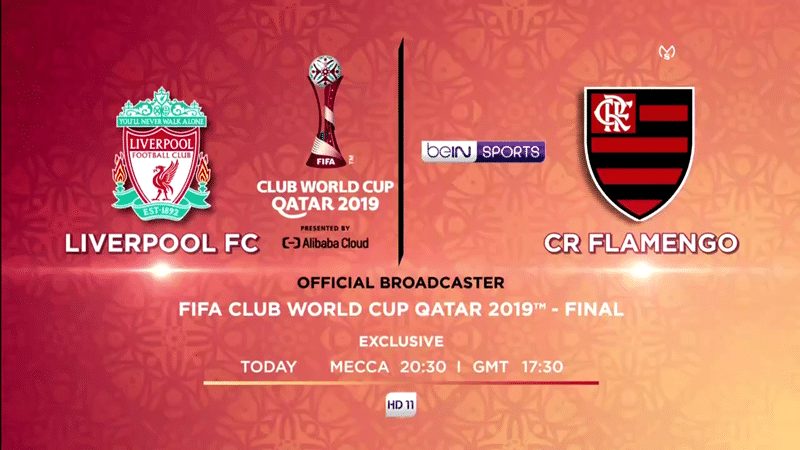 Which Country Host The FIFA Club World Club Final 2019?
Doha the capital city of Qatar host the 2019 Club World Cup Final as Al-Sadd debuted for the first time in history in the tournament.
When will Flamengo VS Liverpool Kick-off?
The Club World Cup Final kick-off on Saturday 21st of December 2019.
Which Teams make a way to FIFA Club World Cup Final 2019?
Third-Place
| No. | Date | Match | Time (local / GMT) | Location |
| --- | --- | --- | --- | --- |
| 4 | Dec 21 | Monterrey VS Al-Hilal | 5:30pm / 2:30pm | Education City Stadium |
Final
| No. | Date | Match | Time (local / GMT) | Location |
| --- | --- | --- | --- | --- |
| 8 | Dec 21 | Flamengo VS Liverpool | 8:30pm / 5:30pm | Education City Stadium |
How To Watch Flamengo VS Liverpool In U.S, Canada And UK
Footy fan from US and Canada can subscribe to TSN and Fox Sport deportes. To get access to TSN content then you can get a day pass for as low as $4.99 and $19.99/month. If you want to live stream FIFA World Club Cub 2019 final in Spanish commentary, you can go for Fox Sport deporte.
In UK, Ireland, Portugal, Spanish, French, Germany, Greece and others can turn their satellite dish antenna to ASTRA 1L at 19.2E where majority of top sport channels are available for free of charge using Icone Iron Pro (Orca Server) or Tigerstar receiver(Forever server).
How To Live Stream Flamengo VS Liverpool Final Outside U.S
If you're outside your country and you fail to watch your local coverage, then I will suggests to buy VPN to hide your IP address and appear online as if you're back home. Also MYHD IPTV and DStv IPTV is also available to live stream every action Flamengo VS Liverpool on FIFA Club World Cup Final 2019.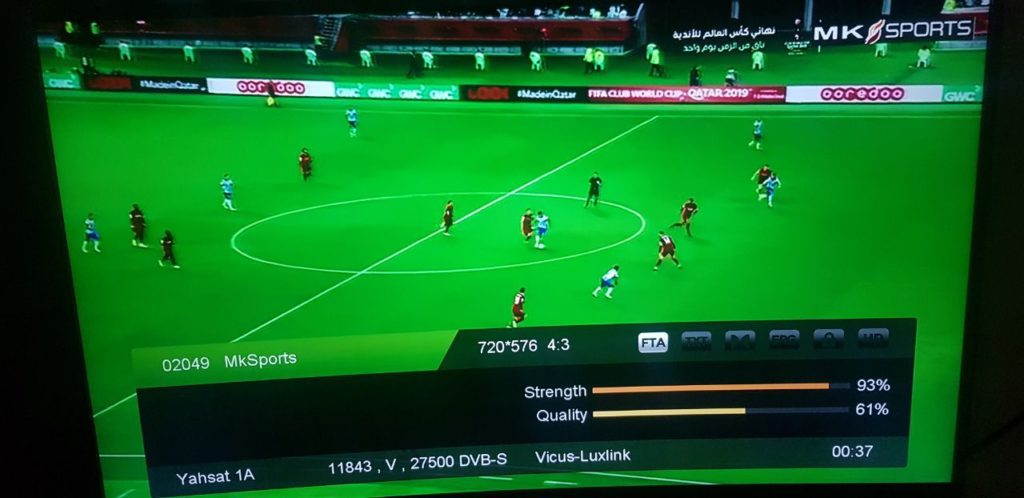 How To Watch Flamengo VS Liverpool On Satellite TV
In Sub-Sahara Africa No digital TV company have official tv rights to telecast the tournament. Though It is so sad to see DStv and Canal+ not airing the tournament. The BUD (Big ugly dish) user with minimum of 3.5m dish can watch Flamengo VS Liverpool on EPT Sports HD and Cosmote Sport on Eutelsat 9A. TVP Sport on Hotbird 13 using of one the stated receiver above without any cost.
In Middle-East, Beinsport Media is the official TV rights owner to for digital tv content delivery in the region across North Africa.
You can watch Flamengo VS Liverpool on New World Sport 1 on Eutelsat 10A, ASR TV, MK Sports on Yahsat 1A at 52E, BNT 3 on Hellasat at 39E and M4 Sport on Eutelsat 9A at 9E for free.
If you find this article interesting don't forget to share with your friend and across social media.
SEE ALSO: