Airtel Triple Data Plan Review And How To Eligible?
Airtel Triple Data plan offer has been working for so long as early as 2017 ever since the offer has been announced by the Airtel Company . Despite the fact that only few people aware and enjoying the offer even some of folks believe that the Data plan offer is no more working, So today, I will share you the easiest method to get back and how to activate Airtel Triple Data Plan Offer.
About Airtel Data Plan Offer
This Data Plan offer gives you 3X the amount of data which you bought from Airtel, Let's take for instance, If you subscribe a data bundle worth of N500 to get 750mb data then Airtel Triple Data will give 2.2GB data which is the three times of your actual 750MB data subscribed.

The Plan applicable to other data plan but as usual, not all Airtel sim cards are eligible to get this offer, To get this offer, you need to follow the steps below to determine your eligibility.
SEE ALSO:
How To Get Activated For Airtel Triple Data Plan
Send GET in text message to 141
You should get congratulatory message otherwise your sim card isn't eligible for this offer
Then, Again Send MIFI in text message to 141
Recharge your sim card with N500 or N1,000 or N2,000 or use data recharge pin short code by dialing *126*rechargepin
After Successful recharge, simply subscribe to any data plan worth your airtime amount recharged above and you will be rewarded in three times of your actual data plan.
How To Check Airtel Data Balance
You can dial *140 or *223 to check your data balance and as well as to view your data balance.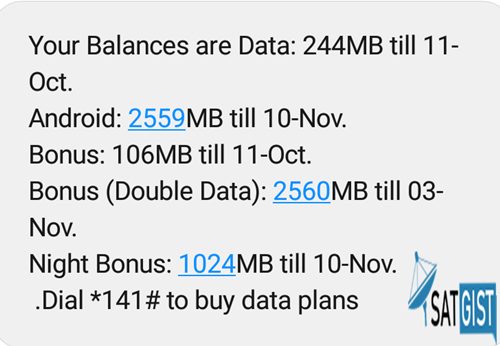 Conclusion
This Data Plan offer is good to stream youtube, surf internet and it can be used to stream StarTimes ON app. The only disadvantages of this offer is that no all the Airtel Sim cards eligible, You have to keep trying and trying till you get eligible sim card.