Pakistan (PK) Sport HD is a trending free-to-air sport channel across the Middle-East and Africa. Footy across these regions can watch live EPL, FA Cup and Cricket. Pakistan (PK) Sport HD is available on Apstar 2 at 76.5e satellite using wide band dish with C-Band LNB.
Dish Size And Satellite Coverage
Dish Size: 8ft or 240cm dish
It is currently operating on Apstar 2 at 76.5e satellite.
Pakistan Sport HD Frequency
3780 H 30000
Tips: You don't need to put di-electric plate
SEE ALSO:
Requirements
Dishpointer Pro App or Satfinder
Spanner of different sizes
C-band without di-electric plate
A digital decoder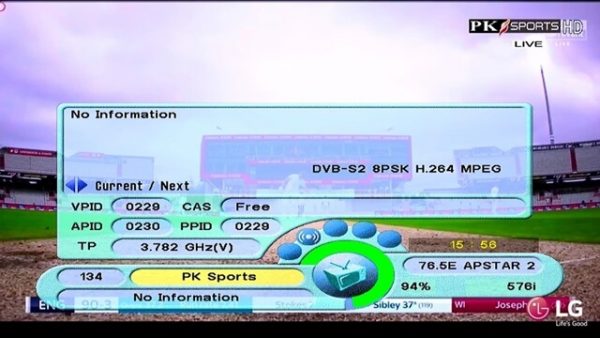 How To Point Your Satellite Dish To Apstar 76.5E (Pakistan Sport HD)
Proceed to Installation menu on your receiver, add HBO frequency 3964 H 19500
Drop your dish down to get HBO signal, You can skip this if your dish already pointed to HBO position
Once you get HBO signal, Change the satellite and frequency to PK Sport HD 3780 H 30000
Drop your dish down and drag the dish towards the right hand side
Once you got the green (signal), then tight your dish very well
Proceed to scan channels preferably "blinds can"
Once the scanning is finish then you're good to go.
This is how you can get Pakistan Sport HD free-to-air channels on Apstar 76.5e. if you have any other simplest method, feel to share with us.