OSN package – The home of entertainment at high quality picture. Nilesat 201 and Eutelsat 7w/7B at 7.0 west is the satellite name hosting OSN package with more than 10 different frequencies. let's move on to dig out everything you need to know and how to point your dish to Nilesat 201 or Eutelsat 7w/7B at 7.0 west.
In this post, I will tell you the satellite tv receiver or boxes that can opening OSN package for free, and their server name.
Important Features on OSN Package:
High definition content
Support 3D contents
Delivering series of movies, Kids, News, documentary e.t.c
The English contents are up to 75%
The Arabian contents are up to 25%
Contents available to watch through third-party box like Tiger, starsat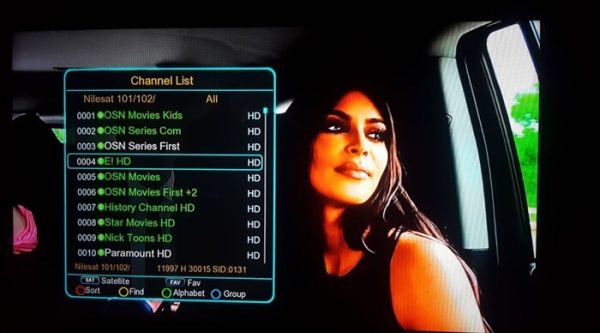 About OSN Package
OSN package is otherwise known as Orbit Showtime Network, It is a direct-broadcast satellite provider delivering digital coverage in the Middle-East and North Africa. It extends their coverage to some part of Europe like UK, Ireland, France, and Germany.
The OSN Network is owned and manage by Panther Media Group Limited. The company headquarters and broadcasting center are sited in Dubai Media city in United Arab Emirates. It offers popular entertainment content of 154 TV channels, and more than 53 high definition and 3D channels.
Orbit and Showtime Arabia won and shown English Premier League for the first time in 2009-2010 season in the region.
Technologically, OSN has introduced series of technologies innovations and services in the Middle-East and North Africa. OSN DVR HD, OSN Play for online TV platform, VOD, and interne-enabled satellite receiver. The company use Nilesat 201 and Eutelsat 7w/7b at 7.0 west for delivering its digital TV services in the region.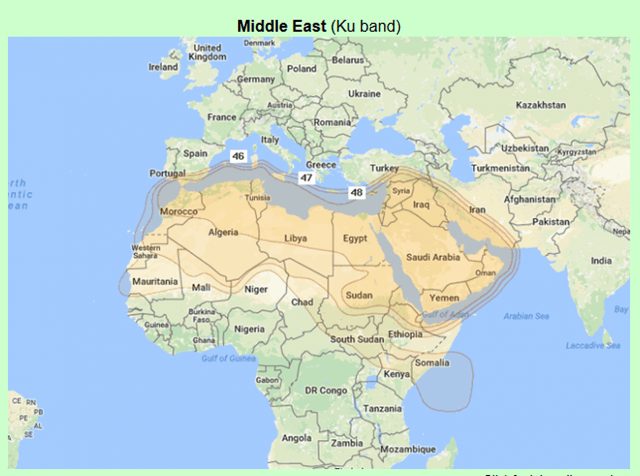 OSN Package Satellite Coverage
Checking the signal footage on lyngsat on Nilesat 201 and Eutelsat 7w/7b at 7.0 west, shows that the signal covers all the Middle-East and North Africa. Countries like Niger, Mali, Mauritania, Chad, South Sudan, Ethiopia, Somalia, and Kenya have good signal coverage using 90cm dish above.
In Sub-Sahara countries including Nigeria, Ghana, Gambia and others can use 2.4m dish above using good LNB like Inverto LNB. You can learn how to choose the best KU LNB for your satellite dish. Nilesat 7
OSN Frequencies, Polarization And Symbol Rate
| | | | |
| --- | --- | --- | --- |
| S/N | Frequency | Polarization | Symbol Rate |
| 1. | 11137 | H | 27500 |
| 2. | 11277 | H | 27500 |
| 3. | 11727 | H | 30000 |
| 4. | 11766 | H | 27500 |
| 5. | 11804 | H | 30000 |
| 6. | 11862 | H | 27500 |
| 7. | 11881 | H | 30000 |
| 8. | 11938 | V | 27500 |
| 9. | 11977 | V | 27500 |
| 10. | 11996 | H | 30000 |
| 11. | 12034 | H | 27500 |
| 12. | 12073 | H | 27500 |
| 13. | 12169 | H | 27500 |
| 14. | 12207 | V | 27500 |
| 15. | 12226 | H | 27500 |
| 16. | 12467 | H | 27500 |
OSN Channels List Obtained from Nilesat 201 and Eutelsat 7W/7B At 7.0 West
HD:
Movies:

ART Aflam 1
ART Aflam 2
ART Cinema
Alfa Cinema 1
Alfa Cinema 2
OSN Movies HD
OSN Movies First HD
OSN Movies First +2 HD
OSN Movies Disney HD
OSN Cinema HD
OSN Kids HD
OSN Enigma HD
OSN Action HD
Star Movies HD
Paramount Channel HD
MBC 2
MBC Max
MBC Bollywood
Rotana Cinema
Rotana Classic
Rotana Zaman

General Entertainment:

OSN Comedy HD
Al Safwa
Al Yawm HD
Alfa Series HD
Alfa Series +2 HD
ART Hekayat
ART Hekayat 2
Star World HD
E! HD
Fashion TV HD
Fann
OSN Series First HD
OSN Mezze
OSN Binge HD
OSN Ya Hala HD
OSN Ya Hala Al Oula HD
OSN Living HD
TLC HD
BBC First
BBC Lifestyle
TV5Monde Maghreb Orient HD
TVE Internacional África
Syfy HD
MBC 4
MBC 1
MBC Action +WWE
MBC Drama
MBC Masr
MBC Masr 2
Rotana Khalijiah
Al Resala
Beity TV
Iqraa

Kids:

OSN Kid Zone TV HD
OSN Kids HD
Disney Channel HD
Disney Junior HD
Disney XD HD
Nick Jr. HD
Nicktoons HD
Nickelodeon HD
Baby TV HD
MBC 3 +Nickelodeon Arabia

Documentary:

Animal Planet HD
Crime & Investigation Network HD
Discovery HD
Discovery Science HD
History HD
H2 HD
Investigation Discovery
National Geographic Channel HD
National Geographic Abu Dhabi HD
Nat Geo People HD
Nat Geo Wild HD

Music:

MTV Live HD
Music Now
VH-1
Rotana Music
Rotana Clip
Mazzika

News:

BBC World News
BBC Arabic
BBC Farsi
CNBC
CNBC Arabiya
France 24 English
France 24 Arabic
France 24 French
Bloomberg TV
OSN News (NBC/MSNBC)
Sky News HD
Sky News Arabia
Sky News Arabia HD
Al Arabiyah
Al Hadath
Al Jazeera Arabic
Al Jazeera English
Al Jazeera Mubasher
Al Jazeera Documentary

Pinoy (Philippines)

DWRR 101.9 (MOR 101.9 FM)
AksyonTV International
TFC
Net 25 (channel 725)
ABS-CBN Regional Channel
DZMM TeleRadyo
Cinema One Global
GMA News TV International
GMA Life TV
GMA Pinoy TV
Cine Mo!
ABS-CBN News Channel
ABS-CBN Sports and Action
Myx TV
DWLS
DZBB

Lebanese (Lebanon)

Télé Liban
ATV
Al Iman TV
LBC
Al Mayadeen TV
Al Masa
Charity TV
Falaksat
Lana TV
Massaya TV
Naba TV
Nour TV
Shahrazad TV
Sheikh Jibri TV
Suboro TV
Taha TV
Al Ittihad TV

Radio:

BBC World Service Arabic
BBC World Service English
MBC FM
Al-Arabiya FM
Panorama FM
Platinum Records FM
Wanasah FM
Mood FM
Anghami FM
Ahla Al Qaseed FM
Star KSA FM
Sky News Arabia Radio
France 24 Arabic Radio
Rotana FM
Al Jazeera World
How To Point Your Dish To Nilesat 201 And Eutelsat 7W/7B at 7.0W
After connect your finder or receiver to TV or use Dish Pointer App to get Nilesat 201 or Eutelsat 7A/7B at 7.0W to get installation details
Proceed to the installation menu
Choose transponder lists, in some receiver you need to choose manual installation
Enter any of the frequencies stated above, in my own case I use 11938 V 27500
Set the Azimuth and inclination obtained from the Dish Pointer Pro app
Rock your dish around, until you hit the green (I mean signal)
Tight your the nuts on both azimuth and inclination
Twist the LNB (Clockwise and Anti-clockwise) to get more more signal
Proceed to use "blind scan mode" to scan channels on your receiver
Wait for few minutes to complete scanning and start enjoying world of entertainment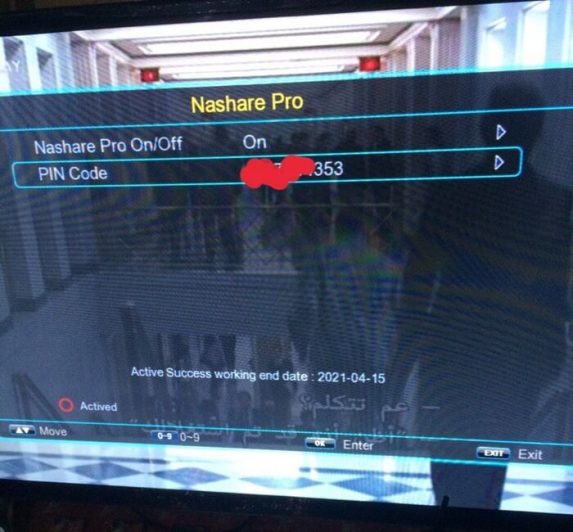 How To Get OSN Channels Opening After Installation
Based on my research, there are four great server that's currently opening OSN channels for free. The two great servers are:
CCCAM Server: This sharing protocol is usually found on almost on the decoder available in the market.
Forever Server: This type of sharing are available on some specific receiver or products such as Tigersat, Starsat, Vision, Pinnacle, Mediastar, and so on.
Orca Server: This server is dedicated and work only on Icone receivers such as Icone Wegoo, Icone Iron, Icone Iron Pro, and Icone Iron Plus.
Nashare Server Pro: This is the newly introduced server usually found on Sunplus receiver such as LEG N24 Plus receiver.
Just get anyone of those receivers running either one of the servers to enjoying your Stay At Home.