I hope you guys are really enjoying AFN Network on SES 5 at 5e on C-band dish Antenna with minimum of 1.8m dish and AFN Network on Eutelsat 9A at 9e using 1m dish along side with M4 Sport HD and Sport 1HD with the aid of CCCAM, However, Nigcomsat-1R is the next topics to be treated which involves the Origin, Satellite information, Frequency parameters, Channels list and the easy steps to point your dish to Nigcomsat-1R.
Nigcomsat-1R Origin
Nigcomsat-1R was a Nigerian Communication Satellite that was signed in 2004 before it was launched on the 13th of May, 2007 worth 300 million USD in 2011. It is a super hybrid geostationary communication Satellite with twenty eight (28) active transponder.
The Mission of Nigcomsat-1R is to be the most influential satellite operator and service in Africa. There are numbers of customers from the broadcasting company, internet service providers, telecommunications operators and as well as offered customer support to its end users.
The Nigcomsat-1R has global coverage which provides 2 up-link for global service covering Nigeria or Africa and Europe. Nigcomsat-1R employing Navigation Overlay Service (EGNOS) with high precision for global coverage. It furthers the purpose as a space based augmented system with the implementation of applications such as Mapping, Target tracking, Security Search And Rescue (SAR) e.t.c
Coverage
The Nigcomsat-1R has 4 active transponders known as frequencies with EIRP of 46dBW for receiving the signal in Central, Eastern Africa And West-Africa region through wide band dish antenna.
Furthermore, Ku Band features with 14 active transponders at EIRP of 58dBW with three different beam coverage, Ku Band Ecowas 1 beam coverage dedicated for West Africa, Ku Band Ecowas 2 Beam coverage dedicated for West Africa And part of Southern African region while Kashi beam Coverage covers part of Asian.
Nigcomsat-1R Ka Band beam coverage is dedicated for European and South Africa with 8 active transponders or frequencies. This Ka Band can be used for the following:
Broadcasting Services
Telephone Services
Protect Data Distribution
Internet Services
Address Military warfare simulations
Reconnaissance and back hauling airspace intelligence gathering surveillance.
To know more about beam coverage visit here.
SEE ALSO:
Frequencies under Nigcomsat-1R at 42.5e
Nigcomsat-1r Frequency Number 1
Frequency: 12519
Polarization: Horizontal
Symbol Rate: 29500
Nigcomsat-1r Frequency Number 2
Frequency: 12540
Polarization: Horizontal
Symbol Rate: 5000
Nigcomsat-1r Frequency Number 3
Frequency: 12576
Polarization: Horizontal
Symbol Rate: 1750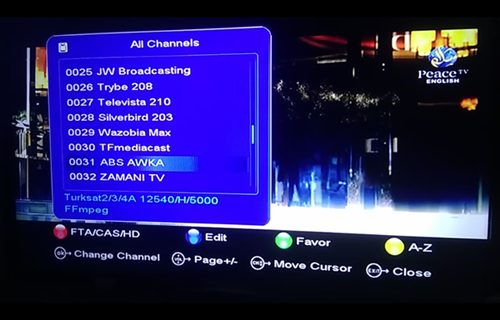 Nigcomsat-1R At 42.5E Channels List
BCS TV (StarCross)
KIDSZONE
RAHMA LIVE TV
ALFRIKY TV
TVC NEWS
CLEARVIEW TV
ALU TV
UNITY TV
NUPE TV
TVC Entertainment
Harpazo TV
Emmanuel TV
MBC 3
NTAi
MBC Action
GVTV
WTV
LIBERTY TV
LIGHT TV
IMPACT AFRICA TV
MBC 2
MBC MAX
OURROOTTV
Peace TV (English)
JW Broadcasting
Trybe 208
Televista 210
Silverbird 203
Wazobia Max
TFMediacast
ABS AWKA
ZAMANI TV
YOTOMI TELIFISAN
OurMusic
CHURCH TV
Catholic TV
Manara TV
OPM TV
AL-ISHAAD
ARTV Kano
TV TARABA TEST
Installation Requirement
Minimum of 80cm dish above with KU Band LNB
High Definition Receiver Like T245+ lazer
Signal Finder/tracking receiver
Step By Steps Installation Guide For Nigcomsat-1R At 42.5E
Connect the cable from the dish antenna to your Signal finder or tracking receiver
Firstly, look for DStv signal on Eutelsat 36A using Frequency 11747 H 27500 and make sure you achieve high signal quality at least 85% above
Tight your dish base a littel bit
Change the Satellite and Manually enter Nigcomsat-1R At 42.5e Frequency using 12519 H 29500
Now drop your dish down gently and set your eyes on the signal finder or tracking receiver to know the signal point.
Once you get signal, tight your dish base and the inclination to hold the dish firmly and prevent signal lost.
In case the signal quality not improved, try to twist the LNB and the inclination (up and down) movement before shift the base of the dish towards left while standing at the back of the dish antenna.
Once you have achieved high signal quality, disconnect the cable from signal finder
Connect your High Definition receiver and proceeds to scanning
After scanning completed, Press exit to the screen and start enjoying series of Nigerian TV Show and as well as Africa.
Final Verdict
Suppose you are looking for free-to-air channels to install, Then I can recommend Nigcomsat-1R at 42.5e for you because it features with interesting channels based in Nigeria for your family to enjoy during vacation and relaxation time. Don't forget to share our articles to your friend and family across the social platforms.