PC optimization software keep improving everyday most especially in the world of computers. No one love to work on a slow PC, therefore if your PC take a longer time to finish booting, or to respond or carry out simple operation, then it needs to be optimized. Get a computer optimized is no more too long process as there are many software to fix those bugs. Tuneup tools is also another PC software optimization to maximize the performance of slow working system.
There are many best free computer optimization software you can use without breaking your bank to get your PC optimized properly for better operation. In this post, I will show how to choose a good, reliable and performance oriented PC optimizer that can work effectively.
The slowness in the performance of a computer could be caused by bugs, invalid registry entries, insufficient storage, malwares and opening apps in the background. By default, Windows-powered PC's comes with some preinstalled system maintenance tools, the free apps can boost the speed of your PC faster than before.
Best Free PC Optimization Tools 2020 At Glance:
Advanced System Optimizer
Ashampoo WinOptimizer
AVG PC TuneUP
CCleaner
Comodo PC Tuneup
Glary Utilities 5
iObit Advanced SystemCare
Razer Cortex
SlimCleaner Free
SmartPC Booster
System Mechanic
1-Click PC Tuneup (Optimization Software)
As listed above, most the PC Optimization tools are available for use freely, while some are premium software with 7 or 30 days free trial validity. No matter anyone you like to use to optimize your PC to get faster speed and overall better performance.
SEE ALSO: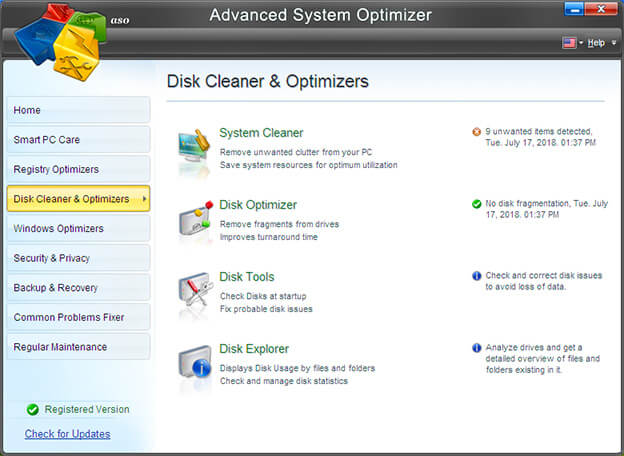 #1. Advanced System Optimizer
Advanced System Optimizer is one of the greatest PC optimization software for windows. It offers system cleaner and optimizer to get quick response. In terms of security, it provides malware protections and support driver updater that notify the users about the outdated drivers.
There are many errors that occur during window update and as well as driver, which caused your computer to slow and crashes. Know more about Window updates and Window errors.
Features:
Offer System Cleaner or PC Optimization
Disk Explorer
Disk Tools
Speed up game performance
Windows Optimizer
Backup and Recovery
Try for free here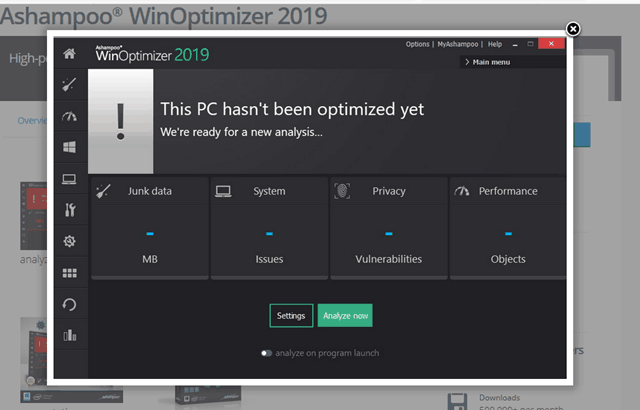 #2. Ashampoo WinOptimizer
With the Ashampoo WinOptimizer 2020, it can boost, clean and optimize the performance of your PC windows. It offers service management tools and powerful PC optimizer along with boot optimization for improving windows startup time.
Ashampoo WinOptimizer 2020 offers powerful system analysis for detailed usage information about the installed hardware and software.
Features:
Registry Optimizer
File Encrypter and Decrypter
System Analysis
Optimizes Internet and Windows startup time
Improve privacy with Antispy
Try for free here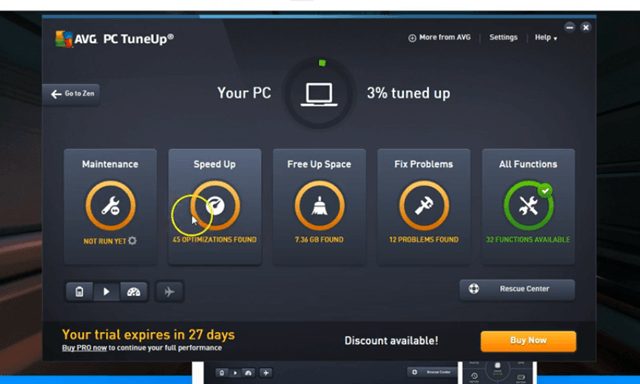 #3. AVG PC TuneUP
AVG PC TuneUP packed with power PC optimizer to boost the speed and performance of your old and new computer. It cleans registry automatically to prevent crashes and files errors. It support bloatware that detect find and unwanted software with AVG software uninstaller.
If you're looking for the best free antivirus software for your PC, then I will suggest AVG PC Tuneup. Built-in privacy protection and stay secure while surfing internet.
Features:
Offer Window PC optimization
Free storage by removing junk files
Updates program automatically
It support Android and Mac devices
Internet Security
Try for free here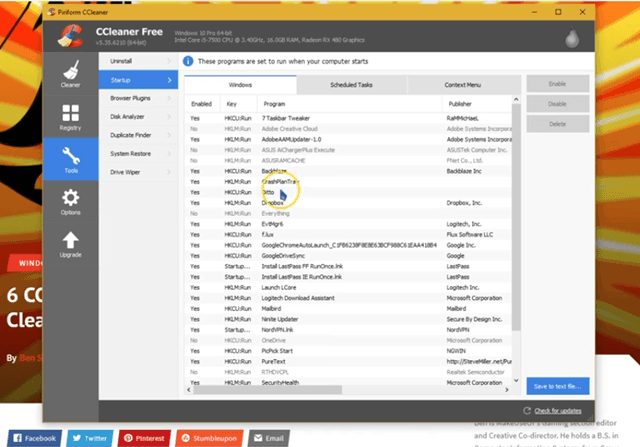 #4. CCleaner
CCleaner offer both free and premium. To get full optimization features in CCleaner, you have to buy the premium version. Your PC will always fast, secure, and clean. This is professional optimization software that optimize the speed, remove junks files, provides internet security and improve your PC startup time. This optimization software is developed by piriform.
Other Features:
Standard privacy protection
Detects internet and remove trackers
Free Space
Instant product update
Customer support
Try for free here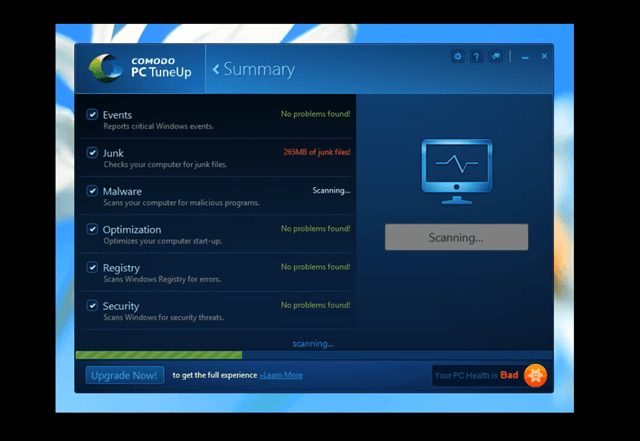 #5. Comodo PC Tuneup
Comodo PC Tuneup is an excellent PC optimization software. It is available to download for free and use it to optimize your PC. It detect and fix registry files, free space, solve security issues, and boost the startup time of your slow PC.
Other Features:
Remove unwanted registry files
Disk junk cleaner
optimize PC speed
Very affordable at $4.99/year
Try for free here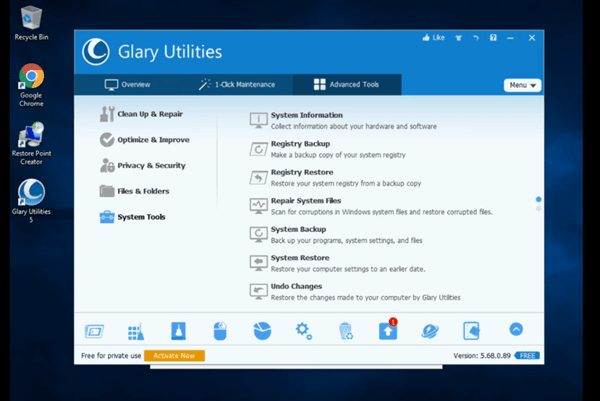 #6. Glary Utilities 5
Glary Utilities 5 is packed with both free and premium optimization tool. with Glary Utilities PC optimizer, you can get your PC optimized to boost the speed, and overall better performance.
The Glary software optimizer is a power tool with other tools for clean up your computer, fixes frustrating errors, freezes and crashes. It also offers easy one-click functionality, and automated options. There are more 20 tools available mainly to boots the PC performance.
Other Features:
Offer Disk cleaner
Disk speedup
Registry repair
Boost Startup time
Security Process Explorer
Try it free here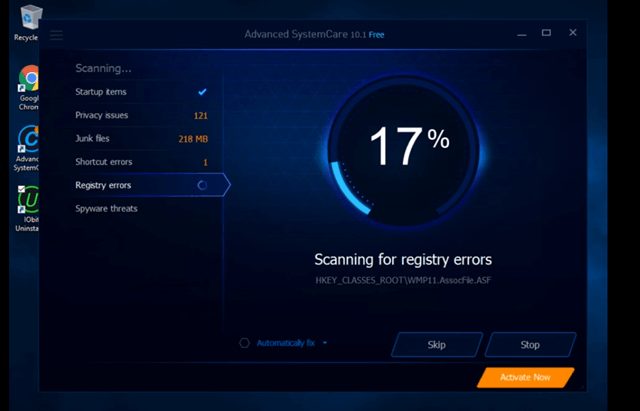 #7. iObit Advanced SystemCare
iObit Advanced SystemCare free PC optimizer boost your waiting time from startup processes, and PC short time. Optimized Turbo boost can help to stop any unnecessary program to boost the RAM and PC for better PC optimization and gaming experience.
It offer privacy protection and clean any traces from hackers to steal your personal data. Th internet booster feature help to increase the internet connection getting maximum bandwidth in just one click. This PC optimization software is available for free and premium version.
Other Features:
Through PC Clean
Swift and fast internet
Protects and monitoring the PC activities
Try it for free
#8. Razer Cortex
It doesn't just boost your PC performance, it also boost your gaming experience. Razer Cortex Beta widget enable you to boost the performance of Xbox console. It remove junk files and validate registry files in one-solution for better PC optimization.
Razer Cortex also available for more mobile, enable you to discover new and popular games. You can use the game booster tool for mobile device and game optimization. There's also a paid silver option to earn from Razer Cortex while playing game.
Other Features:
Speedup response time and startup time processes
Boost system PC and game
Earn extra reward
Try it free here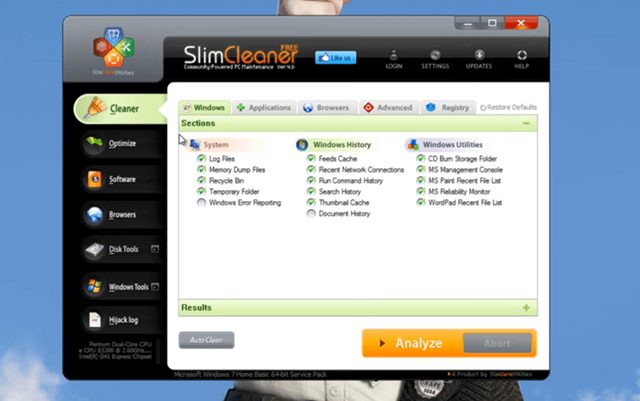 #9. SlimCleaner Free
This is a free and premium PC optimizer that ensures cool and smooth running of your system. Tune up your PC for improving and better program response time, remove unwanted programs and free more space.
The premium version enable to remove junk files and any other unnecessary files consuming the storage and leaks your privacy data.
Other Features:
Restore you system's stability
Prevent your computer from malware and hacking.
Try it free here
#10. SmartPC Booster
Basically, this PC tuneup optimization software is designed to boost the speed of your computer, and Protect your privacy. SmartPC booster (optimization software) tuneup to clean, and carry to boost the overall the performance of your PC.
Other Features:
Perform diagnostic and remove junk files
Driver updater
Boost gaming experience
Free space
Try it for free here
#11. System Mechanic
System mechanic is a tuneup tools or free PC optimizer that can improve your PC performance drastically. It clean up junk files and registry file that could be caused of slow performance of your computer. It protect privacy and increase internet connection bandwidth.
Other Features:
It speed up your PC
It free space both on hard disk and System Memory
Repair and remove unnecessary files
Boost startup time.
Try it for free here
#12. The PC Decrapifier
With The PC Decrapifier, You can boost your PC's performance and a startup time. This free PC optimization software is available to download for free. Not only work on PC, it also support mobile devices such as android, ipad, and iphone.
Other Features:
Prevent your PC from freezing and crashes
Internet security supported
Built-in anti-virus tool
Boost Overall PC performance
Try it for free here
Conclusion
Like I have said earlier, there are many free PC optimizer tool that can help to boost the performance of your computer. These are the most effective and best free pc optimization software in 2020. Choose anyone you like among these tools to fix, and remove unnecessary program from your window system. You can also protect your devices with the best free antivirus software.
SEE ALSO: