KUU Kbook Pro laptop is an affordable laptop with an upgrade of Kbook. It was packed with an improved CPU of Intel Celeron N3450, more than 17% of its predecessor's performance. KUU Kbook Pro worth to have for fun and office, no need to worry about battery life when you go out for work built-in 30.4Wh mAh battery. I recommend this laptop for you and hope you will like it as well. There's a promo code that you can use while placing an order for KUU Kbook Pro laptop and get a discount of $52 dropped the price from $219 to $167. So grab your copy before the promo ends soon.
KUU Kbook Pro Laptop built-in with high-quality components ranging from the Intel Celeron N3450 processor. 8GB RAM DDR4, 128GB/256GB SSD (dual hard drive). Thanks to the most extended use of battery for almost 5 hours with a budget price for as low as $167 (limited time offer).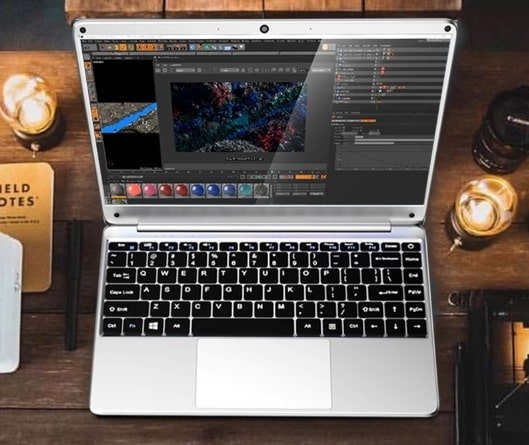 KUU Kbook Pro Laptop Key Specs:
Processor: Intel Celeron N3450
Graphics Hardware: Intel HD Graphics 500
Cores: Dual Cores; Quad threads; 1.10GHz up to 2.4GHz
OS: Window 10 Pro
RAM: 8GB DDR4
Storage: 256G/512G SSD (Dual Hard Drive)
Screen Size: 14. inches; IPS Screen
Resolution: 1920 x 1080 FHD and 4K Ultra
Network: Dual-band Wi-Fi, 2.4G/5G, 802.11a/ac/b/g/n, IEEE 802.11ac
Screen Unlock: Support Fingerprint unlock
Battery: 2x4000mAH per 30.4Wh
KUU Kbook Pro Body And Design
KUU Kbook Pro Laptop comes in a stylish look with micro border (thin and light frame). It has a metallic shell for protection and still portable to carry for office works. USB, Headphone Jack, TF Card slot, HDMI, and Power interface are found.
There's no fingerprint reader. However, it comes with a full-size keyboard micro border, texture, and mouse pad.
READ ALSO: Best Black Friday Laptops Sales Under $600
Screen
Aside from the micro-border, there's 14.1 screen that lets you viewing angle reaches 178 degrees—an ultra HD large screen with high resolution 1920 x 1080 FHD IPS for crystal clear viewing movies.
SEE ALSO:
Software And Hardware
The hardware components in the KUU Kbook laptop are made up of high-quality. Intel Celeron N3450 lets you easily cope with running multiple office applications superior efficiency and surging performance. Intel HD 500 Graphics dual-core; four threads behind the flawless operation without single freezing.
On the memory side, It comes with 8GB RAM DDR3 and 128G, 256G Storage. If you want to have 1TB storage, you can contact the supplier to request, but it would cost an additional $50 and above based on your requirements.
The keyboard is easy to use, and the backlight lets you work in the dark reception or at night.
Battery Capacity
During the test of the Kbook laptop, you can travel as you like. The large-capacity of 2x4000mAh battery for your continuous work, fast charging, and last for 5 hours of use.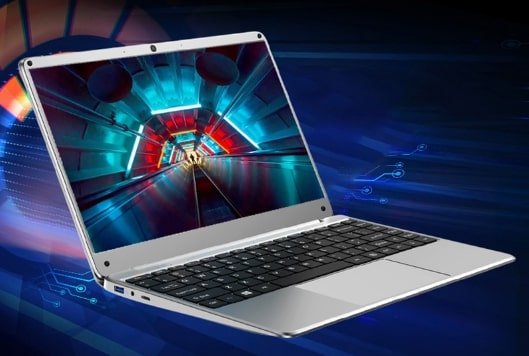 KUU Kbook Pro Laptop Full Specifications
Basic Information
Brand: KUU Model: Kbook Pro Material:Metal shell CPU: Intel Celeron N3450 Number of CPU Cores and Threads: Double Cores; Quad Threads Processor Frequency:1.10 GHz up to 2.10GHz GPU: Intel HD Graphics 500
Storage
8GB DDR4 + 128G/256G SSD(Single M.2)
Display
Display Type: TN Screen Size: 14.1 inch (16:9) Resolution: FHD 1920 x 1080
Network
WIFI: Dual Band Wi-Fi 2.4G/5G WLAN: 802.11a/ac/b/g/n, IEEE 802.11ac Ethernet: RJ45 (No Ports, you need to connect the ethernet via USB interface)
Camera
Camera Type: single camera Front camera: 0.3MP
Battery
2*4000mAH/30.4Wh
keyboard
With Backlit
Screen unlock
Support fingerprint unlock
Speaker
Built-in two stereo speakers
Fan
Single fan
Interface
2*Micro USB3.0 1*HDMI 1*Headphone Jack 1*TF card slot 1*Power interface
System Language
Chinese, English, Japanese, French, German, Korean, Italian, Portuguese, Russian, Spanish and other languages
Dimensions
Size:360*240*25mm Net Weight: about 1.8kg Package Weight:about 2.45kg
Package lsit
1 * laptop
1 * Power Adapter
A Plug Adapter(depending on your shipping country)
1 * User Manual
Price Deal And Availability
KUU Kbook Pro Laptop is an affordable workstation of less than $167 (limited time offer), including free shipping to Spain, USA, and others. After the promo ends in the next 18 days, then a unit KUU Kbook Pro Laptop price will be $219. So grab your copy now and enjoy up a $52 discount.