Icone Iron Plus 4K UHD Satellite and IPTV receiver is manufactured by Icone Technology, The company provides different Set top boxes and digital equipment. Icone Technology using the latest Technologies in produce in the fields of DVB-S, DVB-S2, T2, DVB-C, DVB-T and OTT boxes.
The Company aimed to provide quality services, innovation and delivery of digital television content that meet the customers satisfactions. lets quickly review Icone Iron Plus 4k UHD satellite and IPTV receiver.
About Icone Iron Plus 4K Receiver
It is digital satellite TV decoder with DVB-S/DVB-S2 and Multi-stream functions. Icone Iron Plus 4K receiver also support Android 7.0 operating system. 2GB DDR4, 8GB Internal Memory, Support built-in Wi-Fi, Bluetooth and Ethernet port for internet connection.
The Icone Iron Plus 4K Receiver features with 4K Ultra High Definition video resolution, Icone Iron Plus Decoder can opening channels encoded with H.264, HEVC H.265 and MPEG-4.
Less I forget, Icone Iron Plus 4K Receiver features with Linux. The processor is powered by Hisilicon 3798, Multi-screen support 3D Video processing and display(OpenGL 2.0) for gaming experiences without any hanging and freezing.
More than 3,000 different channels around the world, like OSN, Abu-Dhabi Sports, Eleven, TRT, Sport TV Portugal, Beoutq Sport, Cosmote Sport are confirmed working through ORCA Server.
Unlimited ORCA Server capable of opening many satellite package from European, America, North America, Asia, Australia and Africa. Both Canalsat reunion and Parabole on Eutelsat 16A at 16e confirmed working on it with the aid of pre-loaded orca server.
You can watch any TV Show of your choice without satellite TV cables or dish antenna using GOGO IPTV app. You can install any third-party apps on Icone Iron plus 4K Receiver.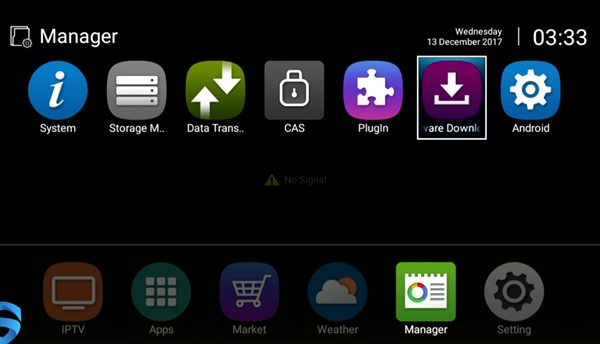 Plugins
Since Icone Iron Plus 4K receiver is running linux based operating system. It make it possible to install SharkCam pluging extension to enjoying another unlimited server like Orca server.
Not only for the satellite server you can get, there're some IPTV plugins you can install on the receiver. Keep checking the plugin menu for the available one.
Icone Iron 4K Plus Receiver Full Specifications
4K UHD Satellite & IPTV Receiver
Fully Support DVB-S/DVB-S2 Tuner
Quad-core Processor 3798 Hisilicon Version
Support Linux and Android O.S 7.0
2GB DDR, 8GB Internal Memory Capacity
Support Multi-Stream signal
H264, H.265(HEVC)/ MPEG4 – HD,SD / DVB-S2 Compliant
On-Screen Display with Full Color & Resolution
Supported Maximum 10,000 Services (N& Radio) Programmable
Support built-in Bluetooth, Wi-Fi and LAN port
Possibility of Adding Keyboard Devices
Recording & Playback with External USB 3.01 USB 2.0 Devices
Blind Scan
Powerful Extended EPG with Event Recording
Event Recording by EPG
User Friendly & Multi-language Supported
OSD / Menu Teletext / Subtitle
Multi-LNB Controlled by Diseqc switch 1.0/1.1/1.2 USALS
Recording and Time Shifting Simultaneously
Supported Parental Lock / System Lock / Installation Lock
Output via Phone Jack
TV OUT Video & Audio Output
Support Miracast or Chromecast
Favorite Service Groups Powerful
HTML 5.0 Support
1 Smart Card Reader
1 Micro SD Card slot
24 Month GOGO IPTV Subcription
Unlimited ORCA Server
Fully Autorole PowerVU And Biss Key Channels
Support Thirty-Party Apps
Google Playstore, File Manager, Youtube Pre-installed
0.5W Power Input
SEE ALSO: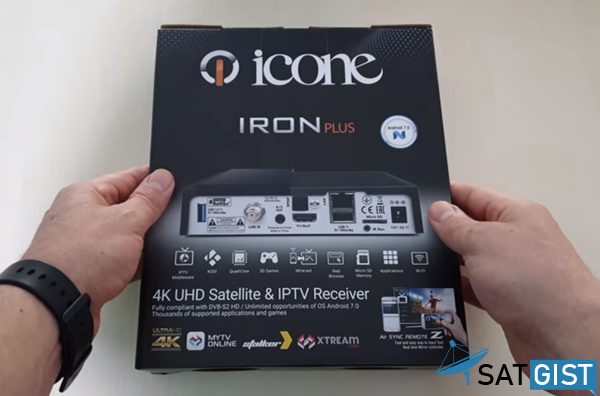 Price And Availability
Well, Icone Iron Plus 4K Receiver has yet to be available in Nigerian Market either via local shop market or online stores. However, A unit price of the Icone Iron Plus Decoder start from $250 without shipping. To place order kindly contact us.