The new season began for the 2019 Major League Baseball. It features with 30 teams and two teams will be qualified for World Series in October. The teams will play 162 games learn how to watch MLB live stream and Satellite TV from any where.
According to the history, In 1916, Red Sox emerge as the winner against Dodgers after winning four games out of seven. In the 114th edition of the World Series, The Los Angeles Dodgers battled out with the Boton Red Sox. This was the second time in history that the two teams faced off at the World Series just like what they did in 1916.
MLB 2019 Schedule
The 2019 MLB regular season began March 20 and ends on September 20 and post season will be kick-off on October 1. All cord cutters will enjoying baseball regular season for six month with more than a game to watch a day.
Irrespective the fan of the team you're be it Boston Red Sox, Houston Astros, New York Yankees, Chicago Cubs or any of the other teams in the league, we're here to assist every cord cutters on how to watch MLB live stream and Satellite TV from any where.
Without wasting much of our time, let show you how to watch MLB live stream and Satellite TV from any where.
SEE ALSO:
How To Watch MLB Live Stream And Satellite TV In The US.
If you're looking for MLB live streaming services subscription, then I will recommend MLB TV. It is the official streaming service by MLB itself to wach your favorite team. The service is affordable and has the most extensive coverage . It further offering supports all of your favorite streaming devices. With basic MLB.TV subscription, You can watch all the games live and on demand in High definition. A service subscription for a team is $92 or pay $119 to follow up all the teams in the league.
MLB.TV are compatible with almost all the streaming devices including Xbox One, Chromecast, Playstation 4, Android, Apple TV, iOS and Amazon Fire TV.
Watch MLB Via Cable TV In The US
For those with active cable subscription, TBS will be showing the games takes place on every Sunday afternoon. While ESPN will takes on to showing Sunday Evening games, Monday, Tuesday and Wednesday. MLB Network will be available on Thursday and Saturdays games will be available on Fox, and Fox Sport1.
Stream MLB Outside The US
Sometimes, You may experience blackout, or probably you don't have official broadcast option available in your domain, then you will need to a VPN to change your current country IP address to US with coverage option. Here are the most reliable and recommend best VPN as follows:
EXPRESS VPN: This vpn is the best ever according to many blogger review. Your Personal information is secured using Express VPN while online. It can unblock your IP address or any restriction site. Support Mobile Phones, Tablets, Amazon Fire TV, Roku and many more. Subscribe now for 1year and get 3month free at $6.67/month and save 49% with 30 days Money back guaranteed.
IPVanish VPN: This VPN is cheaper than Express VPN, However, 100% personal information secured and connect up to 10 devices at once. Subscribe to 1year and get 3month free at $5.19/month
Nord VPN: It good for online streaming with smartplay features. This makes greatest with affordable price at $2.99/month. You can subscribe now.
Alternative Ways To Watch MLB Online:
Yet, there are some other option which are better than MLB.TV simply because majority of them also offering others sports. You can check below for the best plan that your interest and don't forget to use VPN when you have local events games to watch to avoid blackout
ESPN+
ESPN+ subscription is cheap and costing $4.99 per month, If you are interesting to following every each MLB games, then this service could be a better option for you. But It is not good for baseball fans as ESPN+ features with one MLB game per day, That's seven games per week.
DIRECTV NOW
DirecTV Now subscription cost is $50 per month, It allows the subscriber to have access to all the channels needed to watch MLB online. But the subscription doesn't features cloud DVR. It features with extra channels with unique contents to choose. There's 7-day trial option for you to enjoy.
PlayStation Vue
Playstation Vue will give you access to watch MLB live on Fox, FS1, ESPN, ESPN2, and TBS but no MLB network. The monthly subscription worth $45 can give you access to watch MLB online. Hulu with Live TV also offers the same cost and service.
FuboTV
FuboTV is the only among them that offer introductory service at affordable cost for as low as $19.99 per month. It features about 70 channels in their introductory plan along with 30 hours cloud DVR storage. But no TBS, MLB network and ESPN.
Youtube TV
Youtube month subscription cost $40 per month, offering Fox, FS1, ESPN, ESPN2, and TBS and MLB Network. You have to check the home page or welcome page to determine the local networks and regional sports offer in your location.
Sling TV
Sling TV offering subscription worth $40 per month and it is the best way to watch baseball without missing out any games. It compatible with Android, Roku, Apple TV, Chromecast, Xbox One, Playstation and others streaming devices. You can sign up and enjoy 7-day free trial.
How To Watch MLB In Canada
For Toronto Blue Jays fan, Baseball fan can subscribe to a cable subscription to watch MLB in Canada. RDS, Sportsnet, TSN, and TVA Sports. If you are so financial disable, You can watch at least one live MLB game on DAZN via MLB Network.
How To Watch MLB In UK
BT Sport is the official MLB broadcaster in the United kingdom (UK), UK baseball fans have different options to watch this season's game. You can enjoy the first three month for free if you sign up for BT Sport app for as low as 10 pounds or go for TalkTalk TV for 29.99 pounds per month.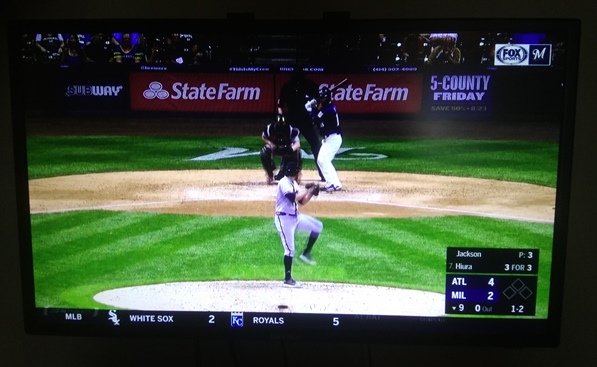 How To Watch MLB On Satellite TV And Online From Africa And Anywhere
MLB baseball fans in Africa, then you will need to use Satellite TV either via subscription or Free-to-air. Just like we know internet subscription is not friendly in Africa, Fortunately, We're surrounding with the best Satellite TV from America and Europe to watch MLB regular second season.
How To Watch MLB On Satellite TV Via AFN Sport
AFN Sport is an American Force Network for troops in US. Fortunately the coverage available in Africa, Europe, Asia, Australia and America without no monthly subscription. Baseball fan from Africa watch MLB live AFN Sport via Eutelsat 9A at 9e and SES 5at 5e.
How To Watch MLB On Satellite TV Via Sport 1HD
Sport 1HD is a Hungary sport channel currently showing MLB games. Sport 1HD channel is available on Eutelsat 9A at 9e same position as AFN Sport. With Sport 1HD Channel you can watch MLB games live and International Champions Cup (Football Pre-Season friendly matches), Bundesliga, Poska Cup and so on. You can also download Sport 1HD app for live stream MLB and others Sport event. The Sport 1HD app is compatible with Android TV Box, Roku, Amazon Fire TV, Apple TV and others streaming devices.