Forever IPTV App is a premium streaming service that provides more than 7,500 channels across the world of different video formats. The server Exploited offers excellent speed and improves streaming of watch 4K and HEVC with a minimum of 3MB/s above.
The Standard video format (SD) and low channels consume less data with a minimum of 200kb/s above. In this post, I will do the Forever IPTV App review and offers daily test codes.
Forever IPTV App Key Specs:
Unique and Nice Interface
Support more than 7,500 Live TVs
Support more 3,500 VOD and Series movies
Compatible with Smart TV like LG, Samsung
Compatible with Mag Device
Support m3u/m3u8
Support Android and iOS or Apple devices
Catch up
Setup Favorite Channels
Detect upgrade version via the app platform
Font size modifications
Due date query
Reset App data
Decoder Switch
Auto start setup
SEE ALSO: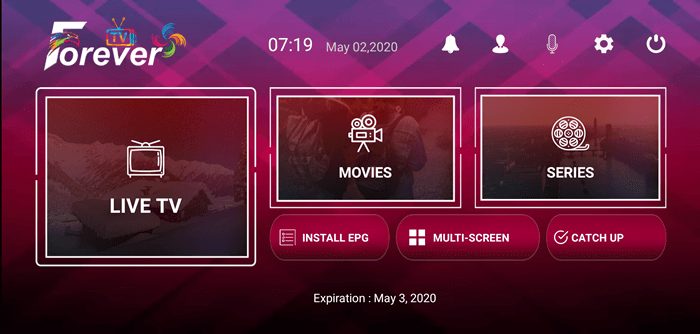 Graphics Interface
The app logo is unique, and the user interface is superb. Forever IPTV App detects the new version of the app available. The user interface lists the system menu, such as Live TV, VOD Series, VOD Films, Catch Up, Favorite, and Settings, almost look the same as dynamic iptv app.
Channels are well arranged accordingly and easy navigation. The channels are accessible by swipe the title channels placed at the top countries and packages.The contents of VOD and Series movies comprises of the most recent films across the world of different languages.
The Screen size could be modified to the user's taste if the default channels screen size did not fit your TV screen. Forever IPTV App offers parental control options is available while watching and setup favourites channels for easy access. It seems to be more advanced than Royal IPTV.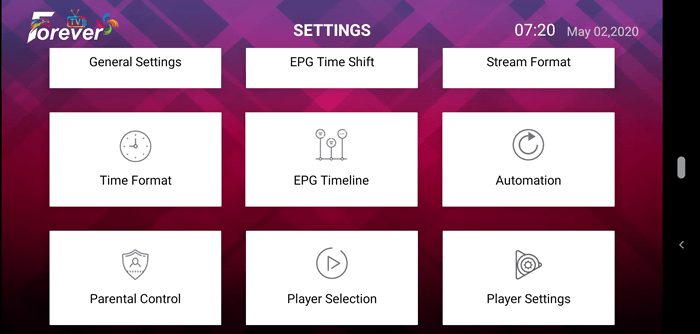 Hardware And Software Performance
It supports different ways of decoding streaming videos of different formats that suitable for the user. If the users of the iptv app faces any channels downtime, he/she can change the decoder to another or wait for the developer to fix the problem from the server.
It supports excellent features such as the ability to check your Forever IPTV activation code due date, change the font size, and set up autostart whenever your device is power on.
SEE ALSO:
Download And Install Forever App
Download Forever IPTV App from above
Install the app on your android phone or TV box
Enter the activation code (digits only)
Then click on the login
How To Activate Forever IPTV Code On The App
After download and launch the app
Click on the "xtream code login."
Click on "Login with xtream codes API."
Mark the small box
Fill the xtream code login
Tap on login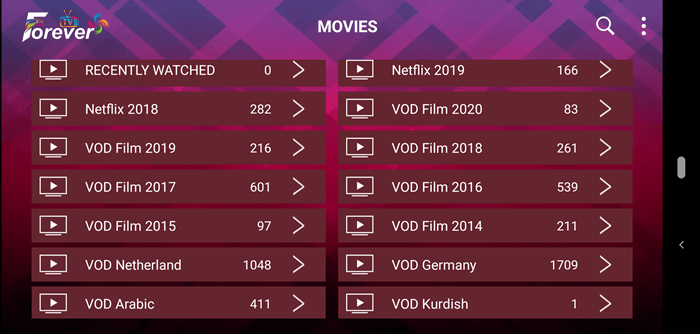 Supported Country And Packages
Like I have said earlier, Forever App supports many countries of different languages as follows:
Arabic Package
French Package
OSN Package
Bein Sports Package
Sky UK
Skynet (Malaysia)
DStv Supersport (Africa)
Yes tv (Israel)
Nova (Greece)
Cosmote Sport (Greece)
The Countries Supported are:
Arabic Gulf
Saudi Arabia
France
UK
US
Canada
Germany
Switzerland
Netherland
Sweden
Norway
Czech
Croatia
Albania
Greece
Italy
Romania
Argentina
Montenegro
Morocco
Algeria
Tunisia
Egypt
Palestine
Syria
Lebanon
Iraq
Belgium
Austria
Spain
Turkish
Denmark
Finland
Russia
Polonia
US Latin
US Colombia
US-Brazil
India
Pakistan
Portugal
EXYU
Serbia
Africa
Israel
Hungary
Georgia
Supported Devices
It support most of the receivers with IPTV options either Tigerstar, Mediastar, Starsat, Icone, Vision, and so on. It is available for smartphones, android tv box, and others device with IPTV enabled. Though we've separate method for Smart TV users, All are welcome to get free Forever IPTV test code.
All android and iOS or apple device are supported with our IPTV Code.
TEST CODE AS AT 05/06/2020
| | | |
| --- | --- | --- |
| S/N | Username | Password |
| 1. | SatGist1 | 67bb5bb |
| 2. | SatGist2 | 67bb5bb |
| 3. | SatGist3 | 67bb5bb |
| 4. | SatGist4 | 67bb5bb |
| 5. | SatGist5 | 67bb5bb |
| 6. | SatGist6 | 67bb5bb |
| 7. | SatGist7 | 67bb5bb |
| 8. | SatGist8 | 67bb5bb |
| 9. | SatGist9 | 67bb5bb |
| 10. | SatGist10 | 67bb5bb |
| 11. | SatGist11 | 67bb5bb |
| 12. | SatGist12 | 67bb5bb |
| 13. | SatGist13 | 67bb5bb |
| 14. | SatGist14 | 67bb5bb |
| 15. | SatGist15 | 67bb5bb |
| 16. | SatGist16 | 67bb5bb |
| 17. | SatGist17 | 67bb5bb |
| 18. | SatGist18 | 67bb5bb |
| 19. | SatGist19 | 67bb5bb |
| 20 | SatGist20 | 67bb5bb |
Note that the above Forever IPTV test code may not be stable enough due to high traffic and consumption. I request you to buy the premium Forever IPTV activation code for $60 per year as we're here to help you.
SEE ALSO: