DStv Now app is owned and powered by the African leading Digital satellite Television provider known as DStv or Multichoice. It is design and dedicated for subscriber to enjoying world of entertainment while on the go. Only official subscribers with active subscription on their decoder are allow to use DStv Now app. The smartcard number will be link to the app after you successfully download and install the DStv Now app
The channels contents available on the DStv Now app will be determine by the subscription package you subscribe on your decoder. You can watch and live stream TV, Catch up your favorite movies, sport highlights and series. There's option for you to download and watch later.
Due to digital broadcast restriction in Sub-Sahara Africa, Some big sporty events not available, but available for South Africa region. It is pack with astonishing other features which allows you to save data consumption at different video quality. TV Guide is also available to schedule your viewing time and others. Don't worry I will get you cover and show you everything you need to know about DStv Now app.
Features:
It compatible with Android, and iOS, Tablets and PC
Catch up are available for movies, sport and tv shows
Download up to 20 videos on DStv Catch up to watch later
Allow 4 different device to connect to one account
Parental control
TV Guides are available for up to 7-daywith an option to set reminder
Support Miracast or Chromecast to view in big screen
Reset tooltips for the app work as defaults
Live chat
DStv Kids to control viewing
Data Consumption Control
To enjoying live streaming and DStv Catch up on DStv Now app, you will have to be active subscriber on either DStv compact subscription package up to the Premium package. However, Both access and family package subscribers aren't allow to link up or use the app.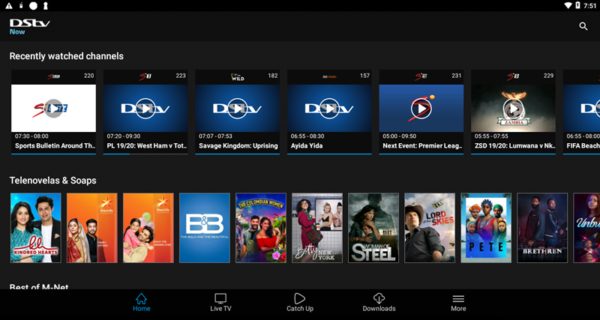 Live TV
Subscribers within the coverage can enjoying varieties of sport most especially live football matches across the world, live wrestling, Golf, NBA, UFC Fight, Tennis and so on. Likewise movies and TV Shows are available to watch while on the go.
Catch Up
The essence of this features will allow you to watch downloaded movies, or TV Shows. Even if you're sporty fans, you can either download or stream series of popular programmes on DStv.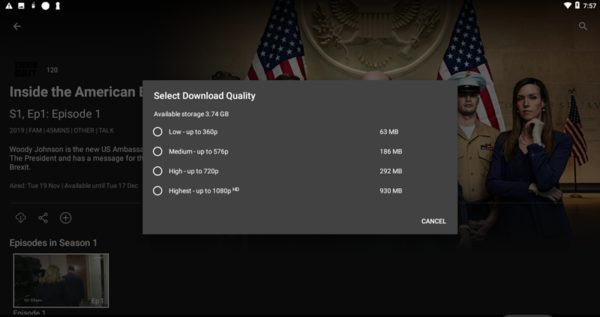 The Catch up contents often updates everyday, you have to make sure you watch them before it get remove from the catalog. There's option for you to select which download quality you want to save your internet data.
How To Download DStv Now App
It is available for download on different platform such as Android, Tablets and iPhone. To enjoying fully, Just cast on TV using Google Certified Android TV Box or Chromecast.
Download link for Android; Visit Google Playstore HERE
Download link for iOS or iPhones: visit iTunes Store HERE
After you finish download and installation, then the next step is registration and how to link up the smartcard number with the DStv Now app and get everything set for world of entertainment.
How To Link DStv Smartcard/Decoder To DStv Now
The setup is easy, just make sure you have active subscription of minimum DStv Compact, a Google Certified device and stable and active internet data plan.
Now launch DStv Now App
Click on "Register"
Select your "Country"
Enter your "Smartcard Number"
Click "Next"
Wait for a few seconds to get "Your Connect One Time Pin" Sent your registered phone number
Enter the "Pin"
Click Next
Then Enter Your "First Name", Email Address"
Click "Finish" and a congratulation message will be appear
Click "Done" and It will automatically open the Account Information
Scroll down to check if "Autolink" is marked with active green color.
Now that you have finish installation, probably you have login with your credentials to watch one or two movies or live sport. Then the next guide will be how to download movies or TV Shows or sport highlights from the Catch up. Note that you are allow to download 25 videos and it may be removed after 2-3days.
How To Download Movies, TV Shows And Sport Contents On DStv Now App
Open the DStv Now App
Click on "Catch UP"
Browse and click on the video contents you wish to download
Click on "Download Icon"
Select your preferred "Video Quality" and it will automatically start downloading.
SEE ALSO:
Countries With DStv Now Territory
Nigeria
Ghana
Kenya
Namibia
South Africa
Botswana
Angola
Ethiopia
Malawi
DR. Congo
Tanzania
Mozambique
Uganda
Mauritius
Ethiopia
Zimbabwe
Zambia
Central Africa Republic
Cameroon
Burkina Faso
Cape Verde
Burundi
Benin
Congo
Gabon
Gambia
Congo
Comoros
Guinea Bissau
Liberia
Djibouti
Niger
Serra-Leone
Rwanda
Mali
Muritania
Madagascar
Ivory coast
Senegal
Somalia
Togo
Sudan
Seychelles and so on.
How To Enjoying DStv Now Outside Territory
DStv Now App can detect your current location immediately you launch the app. African living abroad or most especially the Nigerian, who willing to watch African movies or favorites TV Shows can get Ivacy VPN to bypass local IP address. This VPN will make you appear as if you are within the territory, sign up for as low as $1.5/month limited time offer for 2year and get 1year extra! wow its really cheap.
Verdict
Overall performance, The app is really amazing, nice user interface with easy navigation. I'm able to watch live sport for about 4hour without a single freezing or buffering on my R69 TV Box. The data consumption is also not zapping anyhow though the download server really poor while downloading a movie on DStv Catch up. To watch on big screen or on TV, then you can buy Mecool KM3 ATV Google Certified box or try chromecast. No matter where you are, you can enjoying DStv Now within your territory, just contact us for the DStv account.
In case anything wrong with your app, just head to your phone settings, then select apps, choose DSTV Now, Clear cache or Data reset. Launch the app and login with your credential. If the problem persists just head to Live chat on the settings to chat with DStv customer care support agent. If you like this article feel free to share it with your friends and across social media.
SEE ASLO: