WhatsApp dark mode seems to be a long time waiting, but it's now available for testing on Android and iOS, accompanying with a desktop version to be released soon.
WhatsApp dark mode is a new improvement designed for a big popular messaging app, which will change its contemporary palette of light grey and green for shades of black, green and midnight blue. It won't replace the current look entirely but will be available as an option for anyone who wants to use it.
WhatsApp dark mode is rolling out now for all Android and iOS users. After many months of speculation, hidden hints and beta testing, the new design is at last appearing on the screens of users around the world.
"Dark mode for WhatsApp currently offers a fresh look on a familiar experience," the company said in a blog post. "It's developed to reduce eye strain in low light environments. And we hope it helps prevent those awkward moments where your phone lights up the room.
Files in earlier beta releases suggested that the app might be getting two slightly different dark modes, possibly including one with an all-block background designed with OLED screens in mind, but the launch offers just one dark design. Let's move on how to install WhatsApp dark mode on Android, iPhone and iPads.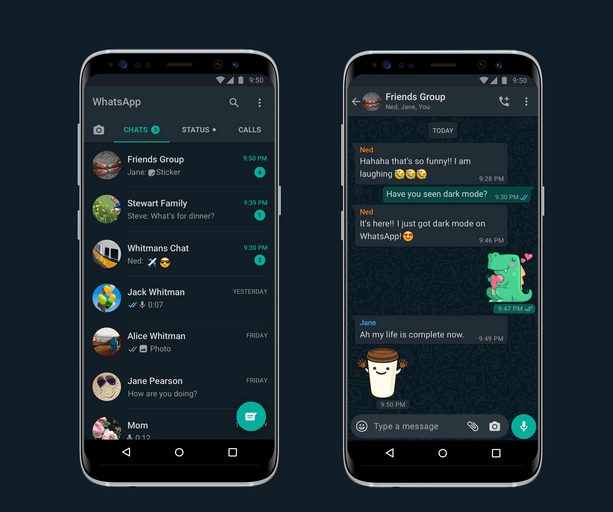 How To Install WhatsApp dark mode for Android devices
WhatsApp dark mode will soon be released after beta testing completed so that you can take it for a spin right now. Bear in mind that some features and colours might be changed before the final release, depending on the outcome of the testing version.
Sign up for the beta program via the Google Play Store
Wait for your account to be processed (usually take a few hours to complete the processing)
Now,Update your app (as the latest beta release is 2.20.53)
If you can't see any update option, download and install the APK
Then restart the app
The dark mode will be activated
How To Install WhatsApp Dark Mode For iPhone Device
The iOS beta testing version is full at the time of writing, but it's worth checking back frequently to ascertain if new places have opened. It's like WhatsApp dark mode will only be available for iOS 13 and above.
Open the app menu
Navigate and click on "Settings"
Tap on "Chat"
Again, Tap on "Theme"
Select "Dark"
Then you have successfully activated WhatsApp dark mode on iPhone. Very soon desktop version will be release as well. It is reported to have been under designing by Mahesh B Wijerathna.
Alternatively, A special dark stylesheet has been created by Vednoc user, though it is not the same as official WhatsApp dark mode.
What WhatsApp Dark Mode seems like:
Now that WhatsApp dark mode is out there for beta testing, we all know that it'll be mostly dark grey, with green accents and standing messages in yellow.
Before the final beta release appeared, it looked as if we might see a minimum of two different dark modes – one among which might be optimized for AMOLED screens. The Assets tucked away in earlier APKs suggested that there would be up to 3 variant available, including one with a deep black background. These black pixels would be transitioned on an AMOLED display, helping save the maximum amount power as possible.
However, this feature doesn't seem to be available within the beta release. It's possible that it may appear during a future update, but we cannot hold our breath; WhatsApp is so enormously popular, it is sensible for parent company Facebook to require to stay pure to avoid confusing users.
WhatsApp says its designers had two main priorities in mind when creating the new interface – readability and information hierarchy – and spent time researching and testing to get them right.
It means choosing shades that would minimize eye fatigue and were close to the system defaults on iPhone and Android. The team also made careful use of colour and other design elements to create different aspects stand out.
Yet, There are many reasons why you may need to try it. First of all, you might be one of the many people who find dark backgrounds easier to look at for long periods, as there's less glare. More coloured screens use less power (particularly if your device has an AMOLED screen display). Also, it offers a fresh interface with a refreshing switch from whitish interfaces.
Other Ways To Increase Battery Life In WhatsApp
One of the most reasons you would possibly want to install dark mode for WhatsApp on android and iPhone devices is to improve battery life, but there are other ways to form the app less power-drainage grey until the setting becomes available. Learn how to improve the lifespan of your phone battery.
Navigate to the app's settings, select 'Chats' and tap 'Wallpaper', then choose 'Solid colour' and want something darker than the quality pale grey background. It won't change the colour of the menus, message bubbles, and other interface elements, but Google's research has proved that black pixels drain substantially less power than different colours.
By default, WhatsApp will download tons of files within the background, which may drain your phone's battery, so you'll also conserve power by opening WhatsApp's settings and selecting 'Data and storage usage'.
Here. You'll choose when media should be downloaded (when you're using mobile data when you're connected to Wi-Fi, and when you're roaming). If you switch these off, videos and pictures sent in messages will only be downloaded once you tap them. You can also create custom Emoji on WhatsApp dark mode version.
Activating your phone's own power-saving mode is differently to form it last longer between charges. Counting on which setting you select, this might turn down the brightness of your screen, stop apps sending and receiving data once they run within the background, and limit CPU speed rate. It's up to you to decide if you're willing to require the performance hit to increase your battery life.