Yes, You might be wondering why Roland Garos appeared on the tittle, It is nothing but to updates you the channels currently showing the 2019 Roland Garos Tennis Open known as French Open Tennis matches since First round started yesterday and I was able to watch the shows via my satellite dish Installed on Eutelsat 9A at 9e using Tiger M5 super and Icone CCCAM Server opening both Eurosport 1HD, AFN Sport.
There are latest Free-to-air channels coming up everyday and majority of them are interesting available from different satellite location.
Icone CCCAM Server
Icone CCCAM Server is a card sharing server or server protocol that could read and access the contents of satellite pay tv subscription cards provided by digital satellite TV providers via Internet either through LAN or Wi-Fi or 3G/4G Network.
I believe by now you should have familiar with what is CCCAM really means and how does it works?
Features Of Icone CCCAM Server
Great Server accomodate many satellite tv package
Fast connection response
No Freezing
Support both PowerVU And Biss channels
Compatible to almost satellite tv receivers
Works with low Network reception
During the testing of Icone CCCAM Server, I realized that it opening PowerVU channels even if your receiver has stopped opening for ages in fact I use it to watch Roland Garos first round games yesterday hence, you don't need to be waiting for PowerVU software for your receiver just get Icone CCCAM Server and start enjoying.
Lists Of Satellite TV Package Opening By Icone CCCAM Server:
Hispasat 30W-5 / 30W-6 @ 30 ° WestPackages opened by the server, Meo complete, Nos is full
Nilesat 201 @ 7 ° West & Eutelsat 7 West A @ 7.3 ° West (full ART)
Amos 3/7 @ 4 ° West Light [95%] Full sd (YES & Sport) Package
Intelsat 10-02 – Thor 5/6/7 @ 1 ° West Packages that open the server on she, UPC Direct is complete, Digi TV is complete, MX1 is complete, Canal Digital is complete, Nová Digi (Slovak Telekom) is complete
BulgariaSat-1 @ 1.9 ° East, The server works completely, It holds one bouquet, Polaris Media Of three frequencies Including Arena Sport channels
Astra 4A / SES-5 @ 4.8 ° East Packages working on the server 0931 viasat 0940 hd, Viasat, Ukraine Sat Telecom Arqiva
Eutelsat 9B @ 9 ° East Mtva, Kabelkiosk, Basis 1 & 2, LoveNature HD, LUXE, AFN Network, Europsport 1HD, M4 Sport HD, Sport 1HD e.t.c
Eutelsat Hot Bird 13B / 13C / 13E @ 13 ° East Most of the moon channels Including channels: 4kNC +Cyfrowy, Polsat, Eutelsat Globe Cast, SRG SSR, RAI, SRG SSR, M-Three Satcom, Telespazio, RAI, Viacom Media Networks, And other packages
Other Satellite Package Includes:
Astra 1KR / 1L / 1M / 1N @ 19.2 ° East Packages working on the server Movistar +, BetaDigital, HD +, SES Astra, CBC, Sky Deutschland, ORF Digital, ARD Digital, HD Austria, Viacom, MTV Networks, M7 Group
Eutelsat 16A @ 16 ° East This moon is distinguished on this server Working packages on this moon she,OiV, AntikSat, Intact Production, Pink, TeamSat, A1 Bulgaria, TeamSat, Orange Slovensko, TVR PackageA, A1 Hrvatska, ALBANICASAT, Digit Alb (some other channels)
Astra 3B @ 23.5 ° EastPackages working on the server she M7 Group (CanalDigitaal), M7 Group, M7 Group (Skylink), Skylink
Astra 5B @ 31.5 ° EastPackages working on the server she Ses-Astra-It has two channels to broadcast all European matches.
Updates On Free-To-Air Channels
Kwese TV Ghana
Kwese TV Ghana has resume free transmission on Astra 28 at 28.2e same position with Joy TV or Multi-TV Ghana, It offers different kind of TV Shows range from Western Movies, Music and many more.
Satellite Parameters For Kwese TV Ghana:
Frequency: 11595
Polarization: Vertical
Symbol Rate: 30000
You can refer to my article on how to track Multi-Ghana.
A.F.A Sport Or Media 7
Last weekend A.F.A Sport was able to telecast live copa dey rey between two Spanish giant Barcelona VS Valencia, UEFA Cup, EPL, LA Liga And Champions League with the hope that A.F.A Sport will do the same on Wednesday for UEFA Cup Final And on Saturday for UEFA Champions League Final.
A.F.A Sport is a subsidiary of Media 7, Media 7 is a Ghana satellite tv provider founded on Badr 5 at 26e same position for MBC Group Channels, A.F.A Sport covers all the major leagues across the Europe including African local matches.
Media 7 roughly has 30 channels on their bouquet for delivering digital satellite signal to their viewers speaking both English and local languages.
Media 7 Channels Lists
Volta 1 TV
SAFOA TV
COVENANT TV
A.F.A SPORTS
1990
ZOE TV
Channel i
AGRIBIZ TV
MINISTERS CHANNEL
MISSION AFRICA TV
PRECIOUS TV
ONUA TV
CHRIST TV
BA TV
AAU TV
AKANAYO TV
DOMINION
i24 TV
KFM TV
ANIGYIE TV
EZRA
KINGDOM TV
ISLAMIC LIBRARY CHANNEL
KUMAWOOD TV
ASANTEMAN TV
HOMEBASE TV
HIJRAH TV
OSEIKROM TV
FAST TV
PURE TV
CCTV4/CCTV5/Eleven Sport 1 Taiwan On Eutelsat 3A At 3W
These channels are belongs to Taiwanese, these channels are may be regarded as Feed or Free-To-Air Channels, Sometimes, CCTV5 can be replace with Eleven Sport 1 Taiwan when there's English Premier League, NBA Action Playoffs, Golf and many more.
These CCTV4/CCTV5/Eleven Sport 1 Taiwan channels exploit Highly Efficiency Video Codec known as HEVC H.265 to deliver compressed signal to the viewer and it is located on Eutelsat 3A at 3W along some African Free-To-Air channels which includes:
RTNC 1
DCC
RTGA
RTNC 3
TVS1
RTNC 2
KIN 24
TELE 50
B-ONE TV
HERITAGE
CH-111 (CCTV4)
CH-221 (CCTV5 or Eleven Sport 1 Taiwan)
DWTV 01
RTB
TANDBERG
PLUS TV
Eutelsat 3A At 3w Parameters
Transponder 01
Frequency: 3985
Polarization: Horizontal
Symbol Rate: 16303
Transponder 02
Frequency: 3665
Polarization: Vertical/Horizontal
Symbol Rate: 2267
SEE ALSO:
How To Track CCTV5/CCTV4/Elevensport 1 Taiwain On Eutelsat 3A At 3W
Requirement:
Minimum of 1.2m dish and above
C-band LNB
HEVC digital satellite receiver
Satellite Finder or Tracker
Installations Steps
After you might connect your LNB or dish to the Signal finder
Firstly, use transponder 01 stated above for tracking the signal
Raise your dish up and play around till you hit signal at the best quality level
Tight your dish very well to avoid loss of signal
Connect your HEVC.H265 receiver
Proceed to "Blind Scan" and enjoying after finish scanning.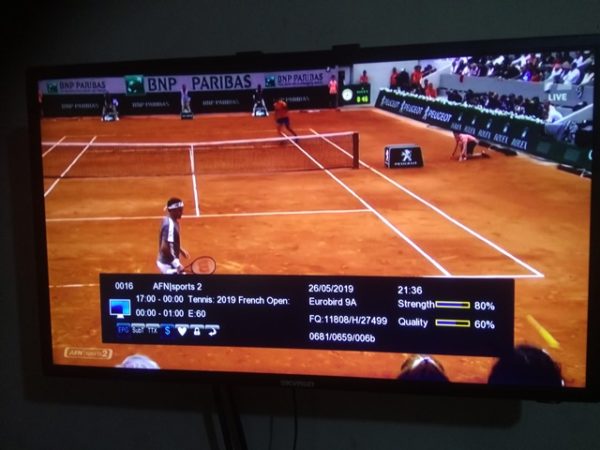 Where To Watch 2019 French Open Tennis Games
Fortunately, You can watch 2019 Roland Garos known as French Open Tennis held in Paris in two different ways which as follows:
Digital Satellite Services
Online Streaming Services
Digital Satellite Services
There are many satellite tv service provider to telecast 2019 French Open Tennis games powered by Rolad Garos and the following are the satellite/channel currently showing it including SBS (Free-To-Air) Channel from Australia.
Channels Name
Satellite Name
Type
AFN Network
Eutelsat 9A at 9e
SES 5 At 5e
PowerVU
Icone CCCAM
Eurosport 1 Germany
Eutelsat 9A at 9e
Icone CCCAM
Canal Sport
Hotbird 13e,
SeS 4 At 22w
Icone CCCAM
Canal Subscription
Sony ESPN
Intelsat 68,5
Intelsat 66e
PowerVU
Icone CCCAM
Online Streaming Services
There are tons of online streaming service provider that will live streaming all the 2019 French Open Tennis game and wherever you may find yourself you can still watch on the go