Tigerstar T245+ Lazer – A Budget Receiver With Autorole PowerVu Features
Hi guys, I'm wanna share with you an outstanding and affordable digital satellite receiver, Are you looking for a receiver that will opening AFN Network Channels for you? or do you want to enjoying Live Sports Events like NHL, NBA, Wrestling, Soccer from America and Canada? here is the Tigerstar T245+ Lazer or Tiger T245+ lazer to give you access to all these sporty events if you have already point your dish antenna to AFN Network Satellite.
Body
Starting from the front, Tigerstar T245+ Lazer is black in color with Aluminum cover the power pack and motherboard panel, The LED light sited at the middle of the receiver with the aid of the key button on the front, one can operate Tigerstar T245+ Lazer without need remote except where digits needs to be press.
While looking at the back of the receiver of the Tigerstar 245+ Lazer receiver, It features with a tuner for receiving satellite signal, HDMI output port, Coaxial AV output, 2.0 high speed USB Port for USB upgrade and internet connection.
Display
Tigerstar T245+ Lazer receiver features with advanced H.264 video output, High definition of 1080P with different range of TV Screen format which includes 16:9 letterbox, 16:9 full screen to choose the video output format that suit your tv screen along side with capability to bypass AC3. TV System set to PAL by default with time out can be modify to your taste.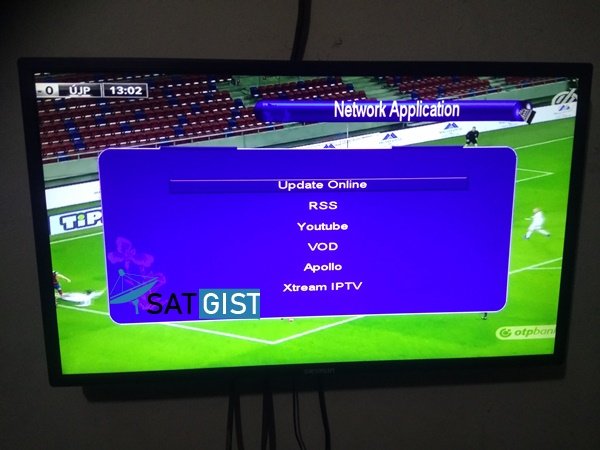 Hardware And Software
The flash memory is DDR2 that accommodate many features such as the capability to opening any PowerVU Channels like AFN Network, Sony Entertainment and many more, Server settings for cccam and Newcamd, Network Connectivity which range from 3G, Wi-Fi, USB Net, RSS, Youtube, and IPTV Protocol includes Apollo, Xtream IPV, Titanium IPTV, VOD, Platinum IPTV, M3u IPTV, Top 10, NetLink, Net Radio and online software updates. Tigerstar t245+ Lazer receiver compatible with two different Wi-Fi hardware which incorporates MT7601 and RT5370. It also features 12month Ferrari server that can opening Amos 4w, Hotbird 13e, Hispasat 30w and Eutelsat 16A.
SEE ALSO:
Tigerstar T245+ Lazer Full Specifications
DVB-S/DVB-S2 Satellite compliant MPEG-2, MPEG-4 And H.264
DDR2 Flash Memory
SCPC & MCPC receivable from KU and C-bnd Satellites
Support Multi-language (Arabic, English, French, Turksih e.t.c)
Supported Programme Lock And Favorite group edit
Blind search, Manual and Network Search And Multi Satellite Search
Variable Aspect Ratio (4:3, 16:9) with PAN & SCAN vector or letterbox option
Output Resolution Format: 480p60Hz, 480i60Hz, 576p50Hz and 576i50Hz, 720p50Hz & 60Hz, 1080i 50Hz & 60Hz, 1080P 50Hz & 60Hz.
Multi-language Audio Support
OSD: True Color (32 bits)
Support 3G, USB Net And Wi-Fi
Diseqc 1.0/1.1/1.2/1.3 USALS
Autorole PowerVu And other encryption: Biss, Irderto, Cryptowork, Conax, Tandberg e.t.c
12 month Ferrari Server Pre-loaded
Support Youtube, RSS, VOD, NetLink And Net Radio
IPTV: Platinum IPTV, Titanium And Top 10.
Tigerstar T245+ Lazer Price And Availability
Tiger T245+ Lazer receiver is very affordable as low as N14,000 featuring with 12month ferrari server but no pre-installed iptv subscription and if you wish to get iptv subscription then the price will be increase as per your request if you are outside of Nigeria you can use my contact details here to reach to get the correct price qoute
Conclusion
If you are looking for a budget receiver with outstanding performance then you can go for Tiger T245+ Lazer receiver because of the capability to opening AFN Network flawlessly, youtube, IPTV. Unfortunately, Tiger T245+ Lazer not support H.265. Always visit here for AFN Network TV Schedule as WWE Raw, Stanley cup, NHL And Champions League continue tomorrow. Don't forget to share this article to your friend and across social media.