In Satellite TV World, You can't enjoying satellite tv without using Forever Server or Gshare IKS or SDS Account on the supported receiver. Gshare is an ancient IKS or SDS Account while Forever Server was introduced some years back. In this post, I will explain details how to renew or recharge Forever Server or Gshare IKS or SDS Account.
What is Gshare IKS or SDS Account?
Gshare IKS or SDS Account are card-sharing server just like CCCAM owned and managed by unknown Asian company. Most of the top digital receiver adopts Forever Server or Ghsare IKS or SDS Account as primary while others like CCCAM. It has a wide servers that can accommodate many satellite packages across the world with quick maintenance support.
Generally, Gshare IKS or SDS Account can be categorize into different servers. It is widely used in Africa, Asian and Europe because Gshare servers capable of opening many Satellite premium channels. Hence the collections or forms or types of Gshare servers usually known as Gshare Account which shall be discuss below.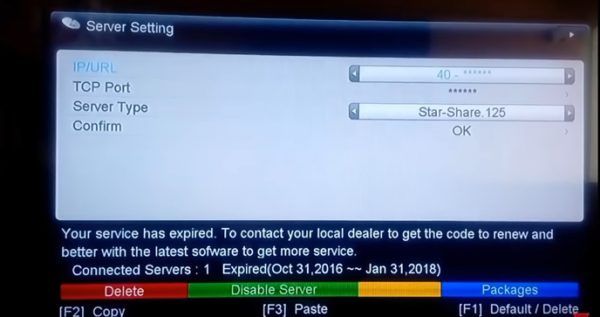 SEE ALSO:
Forms or Types of Recharge Gshare Accounts
Gshare 1
Gshare 2
Apollo i.e (Gshare IPTV)
Gshare 3
Funcam
Gshare Forever
Gshare SDS
Starshare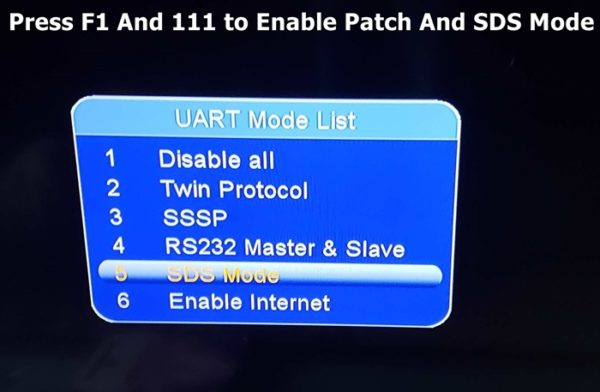 Lists of Satellite Receivers Featuring With Gshare Server Protocol
Tons of different Gshare of Server are pre-install on the decoder depends geo-graphical locations and their satellite tv footage. The following are the lists of Satellite decoder or receiver support Gshare Account:
Tiger Decoders: It is usually found on Tiger THD Series such as Tiger T3000, T3000 Mega, T3000 Extra, T8HD Ultra, T8 Mini Ultra, T800 Hyper, T800+ Mini Full HD and so On.
Starsat Decoders: Gshare server can be found Starsat Extreme Series such SR 20000 HD, SR 20000 Hyper, SR 7000 HD, SR-X1 Pro.
Gean Decoder: Geant CN GT 4200, GN 77HD and so on.
T-Link: Gshare servers are available on T-link 300 HD, 600 HD, 900 HD and 1000 HD.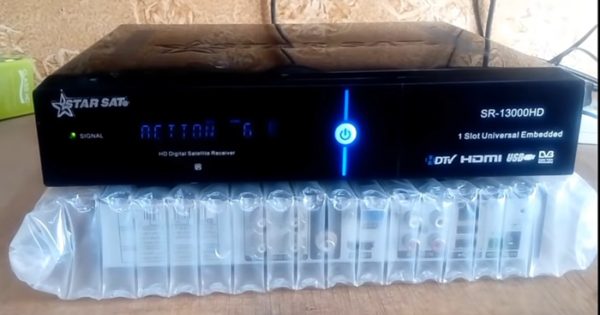 Others Standalone Receiver Support Gshare Account Includes:
Strong SRT 4950 series
Jynxbox Ultra
Qmax
Pinnacle 9500 HD
Skysat S2020
StarTrack Pinnacle
Why Do We Need Proprietary Server Account On Supported Receiver:
It is very much reliable proprietary server
It has a wide server capacity
Gshare server opening premium channels from Europe, Africa and Asia.
It is very easy to renew the Gshare server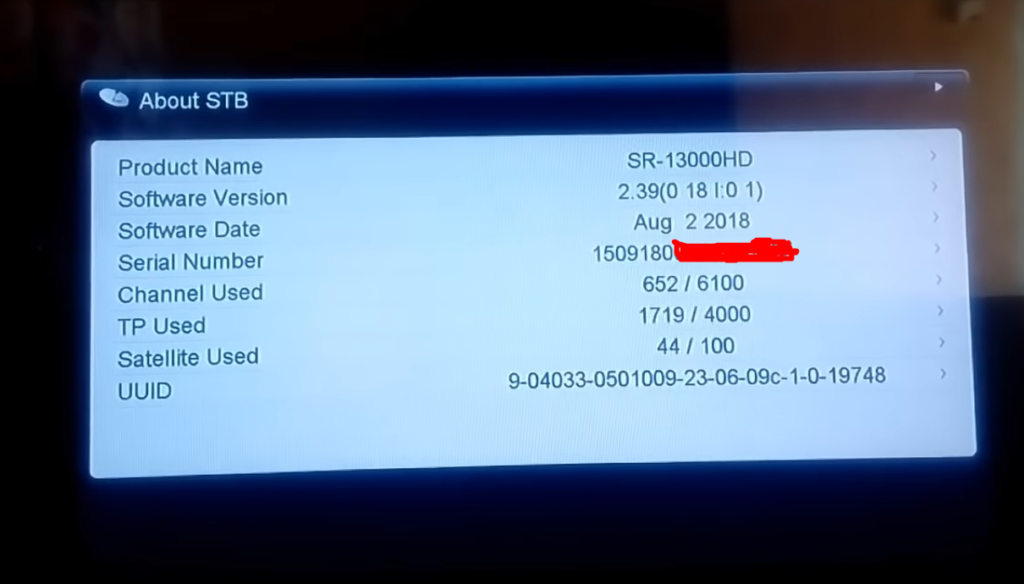 Compatibility Features And Requirements For Renew/Recharge Gshare Server or Forever Server Account
Firstly, Your decoder serial number is very important and you have to copy it out and it is usually found on "About STB" Menu usually 12-digits.
Your decoder must support Gshare server protocol usually found on the server or patch menu.
Your satellite decoder must be connected to the high speed Internet network.
Check the firmware or software of your receiver or upgrade to the latest version preferably.
There should be no power failure whatsoever throughout the process.
Fund your Bitcoin or Paypal wallet with enough money.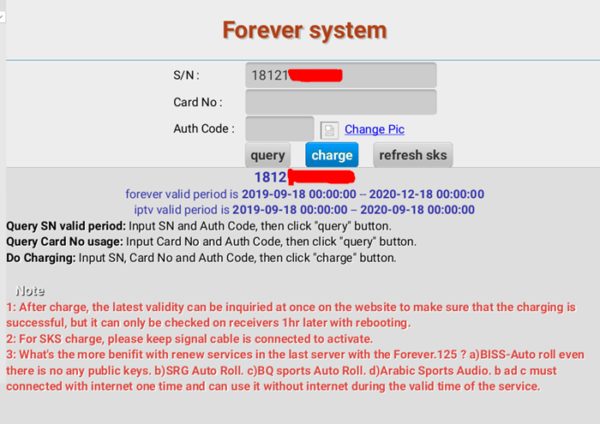 How To Renew Or Recharge Forever Server Or Gshare Account
Firstly, Visit renewbox for Gshare server or Visit Forever Server Charging System (For renew forever server only).
Enter the "Serial Number"
Enter the "Auth Code"
To check the balance of either Forever server or Gshare Account, Just click on "Query" or
To Renew or rececharge Forever Server or Gshare server, Just click on "Charge"
Preferably pay via Bitcoin
Wait for the transaction to complete on the same window approximately less than 30 minutes
Once you get "Charge Successful"
Then Query the "Serial Number" to verify if it is renewed
After you get your due date of either Forever Server or Gshare Account
Reboot your decoder and start enjoying your favorite channels.
Lists Of Gshare SDS Server Via Satellite Dish Signal
Eutelsat W3A-1 (7.0E)
Eutelsat W3A Africa (7.0E)
W6 (21.6E)
Yahsat (52.5E)
Eutelsat 12 (12.5W)
W6-1 (21.6E)
Satellite Package Confirmed Opening With Forever Server And Gshare Account
S/N
Satellite Name And Position
Satellite Package Currently On Forever And Gshare
1.
Astra (4.8E)
Ukrainian Mux, Viasat Ukraine
2.
Eutelsat 7A/7B
Digiturk
3.
Eutelsat 9A/9B
M7 Deutschland, Cosmote TV
4.
Hotbird (13E)
NC+, Cyfrowy Polsat, SRG SSR, RAI, Canal+,
Eleven Sport Polsat, Nova
5.
Eutelsat 16A
DigitAlb, Canal Reunion, Pink, Total TV, Orange Slovenko,
Tring Digital, Parabole Reunion, OIV, Orange Reunion,
Albanica Sat, TV Sat Africa,
6.
Astra 1 (19.2E)
Movistar+, ORF Digital, HD+, ARD Digital,
Canal+ France, Prosienbensat 1 Media, Orange France, M7 Group
8.
Astra 3A/3B (23.5E)
M7 Group,
9.
Astra 2 (28.2E)
Sky uk
10
Hellas Sat 2 (39.0E)
Bulsatcom, A1 Bulgaria, ERT, TeleKom TV
11
Turksat 2A/3A (42.0E)
TRT, Tivibu, Digiturk
12
ST 2 (88.0E)
TVBS, Videocon
13
Nilesat (7.0W)
OSN
14
Thor 5/6 (1.0W)
Canal Digital, Digi, UPC Direct, Viacom,
SLovak Telecom, MX1
15
Amos 4 (4.0W)
Yes SD & HD
16
Eutelsat 5A (5.W)
Fransat, RAI, Bis TV,
17.
Hispasat (30.0W)
AMC Network, Telefonica, Meo, Nos
Pricing
The price is not fixed depends on the platform you which to use to renew or recharge your Forever Server or Gshare Server. Try as much as possible to fund your Bitcoin or Paypal wallet for as low as $45 as Paypal charges may be included in rare case.
SEE ALSO: