This September 2019, There are a lots of trending news this month as far as satellite tv is concern. I will give you satellite tv updates which will cover many aspects GTV Sport plus and Max TV on Multi-tv Ghana, PowerVu updates on AFN Sport, TStv, IPTV, Yayi TV and Maxx HD on Eutelsat 9A At 9e as alternative to watch wrestling and UEFA Champions League.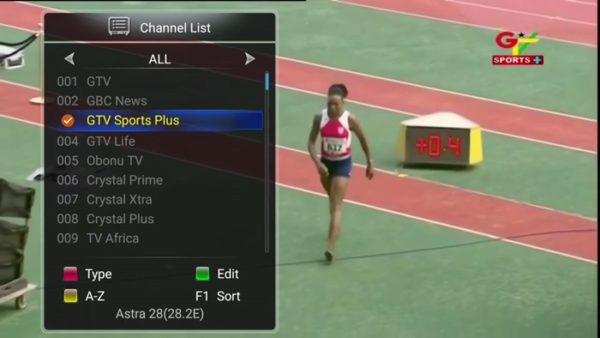 Hidden Channels On Multi-TV Position (GTV Sport Plus)
If you're the core fan of Multi-tv Ghana channels, You will realize that some channels are missing which includes GTV, GTV Sport plus, Max TV e.t.c. To get those channels back on your reception then you will need to buy Multi stream enabled receiver. The following are the Multi-stream enable receiver :
Tiger T8HD Ultra
Tiger T245+ Lazer
Csat C8 Pro
Csat C2020
G12+RF Receiver
SEE ALSO:
PowerVU Updates On AFN Sport
for the past a month ago, AFN Sport has stopped working on all the receiver as the provider implement new security patch to secure the channels from unauthorized viewing. Yet if there's any new improvement on how to watch AFN Sport I will update you as soon as possible so stay tune.
Updates On TStv Africa
TStv Africa seems to be more interesting featuring new channels everyday. For those in love watching Indian movies, TStv Africa has added Yayi TV 1 and Yayi TV 2. Both two channels are dedicated for Indian movies and during the weekend YaYi TV 1 and Yayi TV 2 broadcast live EPL, LA liga and SerieA. After the international break for world cup qualifiers you can try to check. If you have yet to receive those channels just re-scan your decoder. To avoid blackout or enjoying TStv Africa fully, You have buy their official TStv decoder as the company will soon scramble their channels from viewing it for free.
Maxx HD On Eutelsat 9A At 9E (To Watch Wrestling)
It is very difficult to watch live wrestling ever since AFN Channels has been scrambled last month. Maxx HD is also showing live wrestling on every Tuesday. Wednesday and T Night. To watch Maxx HD channel, you have to point your satellite dish on Eutelsat 9A At 9e using Icone CCCAM.
How To Watch UEFA Champions League
To watch UEFA Champions League for free in West Africa has been become tough for the past two season. simply because no satellite free-to-air will be allowed to telecast on the same territories where both DStv and Canalsat operate as the official tv rights holder in the territories.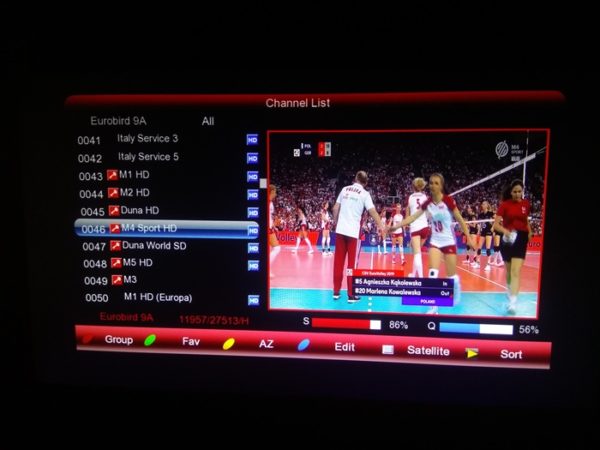 However, You can watch UEFA Champions League on M4 Sport Hungary and Sport 1HD (Germany) on Eutelsat 9A on 9e with help of Icone CCCAM Server. You can also watch UEFA Champions League on the following Satellite using decoder with forever server or Orca Server:
Don't forget to considering the dish size to avoid sundry while installing your satellite dish. Majority of them are European Satellite and you will bigger dish to nail them.
Updates On IPTV
Series of IPTV services are available online store such as MYHD IPTV, DStv IPTV, Dynamic IPTV, Yaya IPTV and so on. You can watch any favorite tv show or any sporty events live streaming on IPTV services, Please don't forget to acts according to the laws of the country you are living to avoid being into trouble. You can also contact me to place order for your IPTV subscription.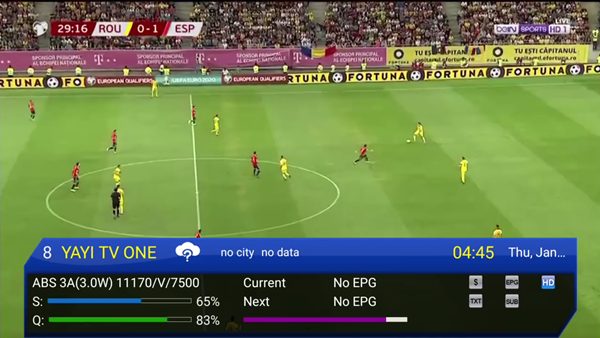 Yayi TV On ABS At 3W And Azerspace 46E
Alternatively, You can watch Yayi TV on Abs At 3W same position where e.tv Africa is. e.tv Africa channels make use of Tandberg encryption with 90cm dish you can hit the signal. If you love watching Indian movies then you can point your dish to Abs At 3W to get Yayi TV and e.tv Africa.
Yayi TV Satellite And Frequency Parameters
| | | | | | | | |
| --- | --- | --- | --- | --- | --- | --- | --- |
| S/N | Channels | Satellite | Frequency | Polarization | Symbol Rate | Beam | Encryption |
| 1. | Yayi TV One | ABS 3W | 11170 | Vertical | 7500 | Africa | Free |
| 2. | Yayi TV 1 & 3 | Azerspace 45E | 12511 | Vertical | 12506 | Africa | Free |