Surfshark VPN is one of the best and cheapest VPN tested so far. But the question is, does its lowest price affect the quality? Surfshark VPN is currently doing great on Netflix, anonymous surfing internet, torrenting, and protect your privacy.
In this post, you'll find answers to all the most questions and things you need to consider for choosing a VPN.
Surfshark VPN Subscription best price deal: 24month at $1.99/month

Key Features:
Bypass geo-blocks
Support Streaming Services like Netflix, Hulu, and BBC iPlayer
Consistent, Fast and Reliable Speed
Easy of use
A 30-day Moneyback guaranteed
Live chat customer support
Offering low price if you choose a 2-year plan
Basic Information:
Surfshark VPN is an exciting VPN with a great feature-packed and an astonishingly lowest price. Its network has just recently increased up to 1040 servers across over an impressive 160 locations in 64 countries.
Surfshark VPN is available on Android, iOS, Mac, Linus App, Windows, Firefox, and Chrome extensions. The VPN offers an IPs or site bypass Smart DNS system for game consoles and live streaming services.
SurfShark VPN provides a friendly interface, ease of use, protect privacy, live customer support, reliable, and fast speed internet. No simultaneous connection limits that may be annoyed you install and start using Surfshark VPN as many devices as you can.
There's a kill switch to protect your privacy if your network drops. Other services for your protection includes IKEv2, OpenVPN, and reliable AES-256-CCM encryption.
The implementation of two-factor authentication makes it very difficult for an attacker to hack your account: Dark Mode, connection diagnostics troubleshooting, and other configuration options. The use of the new GPS spoofing for Android provides any apps requesting for your physical location will the coordinates of your chosen VPN server.
Users Interface
I will like to categories this section into two, namely:
Mobile App
Window App
Let's start to analyze the interface one after the other.
Mobile App
Surfshark Mobile VPN Apps often has the same interface with a desktop. Same location, Malware blocking, Split tunneling, a website with whitelisted, Multihop connections, and CleanWeb's ad are all available.
There's a kill switch to protect your privacy if the connection drops, offering the same Shadowsocks protocol support and OpenVPN/IVEv2.
There are more features in the Android app giving better speeds such as Chacha20Poly1305 or AES-256-GCM. The implementation of small packets tends to improve the performance with mobile connections. Surfshark VPN allows connecting automatically to the VPN with the secured and unsecured network while on a mobile phone.
Surfshark's iOS App looks the same as Android, kill switch, and protocols are available. Other options are there, which includes bug report or contact support team without opening from within the app.
Generally, The Apps are well design and implemented with ease of use. A good VPN for anyone annoyed by losing VPN functionality on mobile devices.
Surfshark VPN Subscription best price deal: 24month at $1.99/month?
Surfshark Windows App
Starting with Surfshark is very much secure than any other VPN around. Download and install the window version of your desktop, tap on the signup option, and select a 2-year plan with making the payment within the installer (not using any external browser needed).
The Windows client is more flexible than most, working as a responsive website as you resize its home page. Despite the Surfshark VPN's small interface, the window client looks much like any other VPN app. There's a Connect button, list of locations or countries, and status information. More options and new panels will be displayed if you try to expand or maximize the client interface.
If you're not worried about any specific country, getting connected is easy, Click on the "Connect Button," A desktop notification will pop up telling you when the VPN connect and disconnect. Both new IP address and new virtual location will be display on the interface.
Still in Surfshark VPN's interface, Not display latencies of the available location, but it shows the server icons and the good and worst server.
To get extra options, right-click on the Surfshark system tray icon displays a miniature client interface rather than the regular menu. It allows you to connect to the fastest server, select one of your most recent used locations.
Whitelister And MultiHop
A Whitelister panel is allowing you to create whitelists of mobile applications, IP addresses, and websites that will bypass the VPN (same of the split-tunneling feature in another VPN provider like ExpressVPN, and Ivacy VPN).
Surfshark VPN offers a MultiHop option that caters for your traffic through two VPN servers, make sure that even if the exit server is compromised, the cyber attacker won't have your real IP.
MultiHop features work in such a way that the VPN will connect to the first server as your initial connection and connect to the second server is where you'll appear to be online (display your current location and IP).
CleanWeb
The CleanWeb ad feature in Surfshark VPN blocks malicious websites or links, trackers, and ads. Though I don't know how effective this might be, and the "uBlockOrigin" (Special tools) blocked ads and provide more security on privacy.
Once the user launches the Surfshark VPN on the Windows, or switch from protocols like OpenVPN TCP and UDP, IKEv2, or Shadowsocks (commonly used in China to bypass internet censorship mostly used in China).
The kill switch protects your privacy if the connection drops or disconnects the VPN and makes use of the local internet. It blocked the internet traffic even it forcibly closed the VPN. It does notify if it is active, and there are drops in connection, but you might be in trouble if not active even annoying when connection drop. Your data, IP address, and location may be exposed for a few seconds till the connection is fully restored.
Generally, Surfshark VPN provides ease of use along with functionality, but the window client needs more work. Surfshark VPN Subscription best price deal: 24month at $1.99/month?
Surfshark VPN's Privacy And Logging
Secure protocols such as (OpenVPN UDP and TCP, IKEv2), and AES-256 encryption provides a kill switch to block internet access when the connection drops. Surfshark VPN provides privacy to prevent identity leaks if the network ever fails.
Not only the kill switch, but It also has its private DNS for each server to reduce the potential of spying on your activities. It allows connecting to double VPN Hop (for instance, connect to Netherland, then leave the Surfshark network in California) to ensure difficult for the hacker to monitoring your activities.
It is clearly stated on the FAQ page on logging policy that Surfshark doesn't store any sensitive data or collect incoming and outgoing IP addresses, Purchasing, downloading, browsing, used bandwidth, and network traffic.
However, the company saved your email address, the billing information, unsuccessful connections, performance, and crash reports.
The Surfshark VPN claimed that it had passed a security audit offered by the German Security Agency Cure53. It seems to be correct, but there are relatively small issues that can't explain in-depth about the logging.
Surfshark VPN offering real-time notifications when your email and passwords are at risk of being hacked through the registered email. Blindsearch allows to get organic results and queries in completely privacy with no logs, no trackers and no ads, using built-in powerful and lightweight tools. Read more about privacy logging.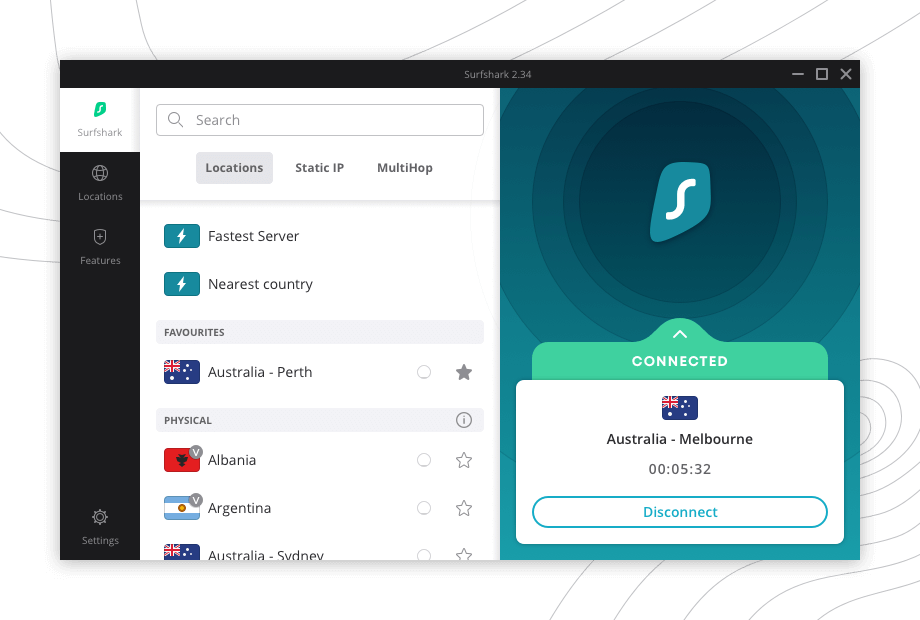 Performance
By default, Surfshark VPN downloads configuration files for each of its servers. This is great! It can make use of manual settings extracted from any other platform if you want to configure it manually.
The connection is reliable and fast to connect to the VPN servers during the time of testing no connection failure and timeout. All the server locations seem to be accurate.
Testing the VPN speeds, the UK download speed was as excellent as expected, at around 68Mbps on 75Mpbs on the test tools. Likewise, did the same on the 600Mpbs network in the US, and the result was good as expected.
Average speeds of 140-150Mpbs didn't consume all our resources. Anyway, that's not a big deal with Surfshark VPN. Though the problem might come from my ISP, put on the speed test tools.
More than thirty servers were accessed; the lowest speed recorded was 115Mpbs, which is more than enough for your need. This is my testimony on the US performance.
It seems Surfshark VPN delivers the acceptable performance, very consistent. Also, the speeds depend on your locations and the target server. It is good to take a trial, carry out your performance testing before signup.
Surfshark VPN Subscription best price deal: 24month at $1.99/month?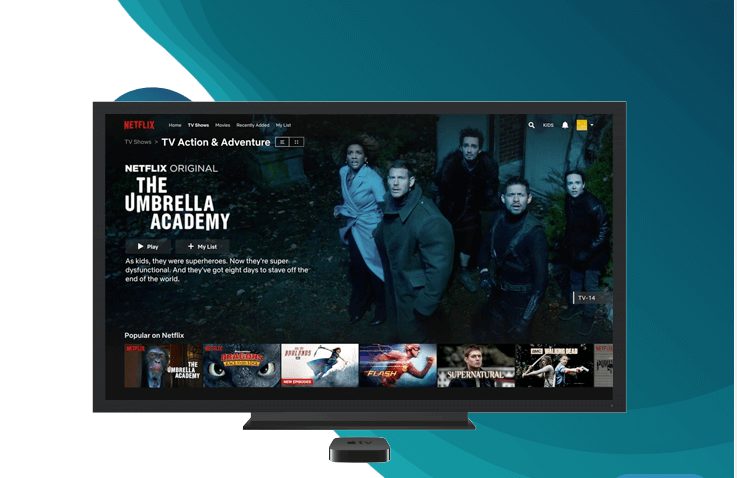 Netflix
In streaming live event blocked by local ISP, then you'll love Surfshark VPN for its unblocking abilities. If you're a Netflix subscriber and find yourself outside of your country, Surfshark is the way forward to unlock Netflix. It supports more than 14 countries across the world, including France, Italy, Australia, the US, UK, Germany, Japan, and many more).
Not only unblocking Netflix, but Surfshark VPN also extends its unblocking abilities and allows us to browse and stream content from YouTube.
Surfshark VPN also allows us to watch content from BBC iPlayer bypassed its VPN blocking with ease, using UK location.
If you have the US or UK-registered Amazon account, then you will be able to connect to Surfshark's US or the UK to watch Amazon Prime Video contents. However, you won't be able to watch if connected to other countries' servers outside the US and UK.
Surfshark VPN Subscription best price deal: 24month at $1.99/month?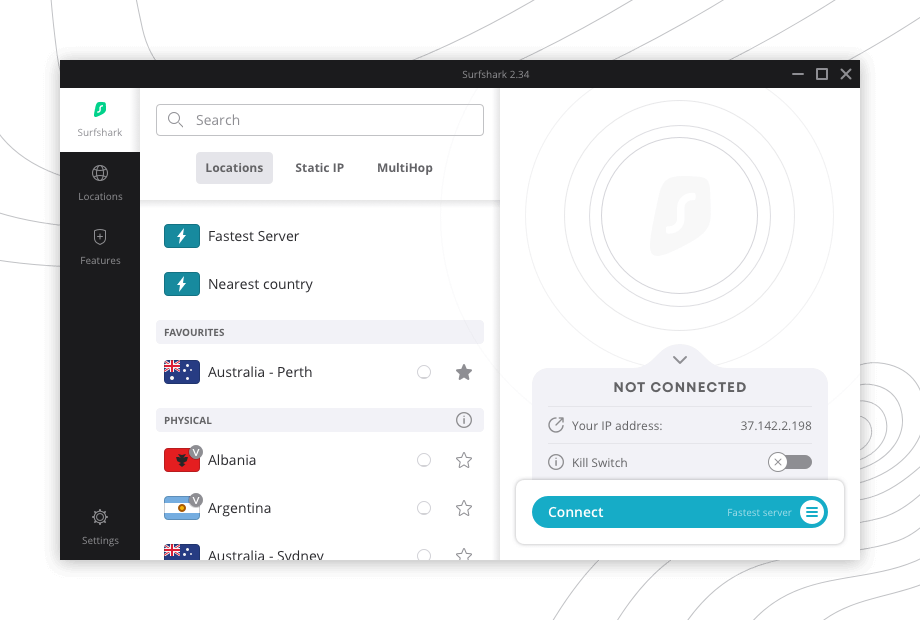 Pricing And Plan
No special features are designed for all the plans. All three plans got the same premium feature. The price and plan depend on its cheapest; the monthly plan seems to be expensive.
Choosing a 2-year plan makes it the cheapest VPN with a significant discount without a reduction in quality and performance.
It cost $5.99 per month (Monthly Plan billed annually) And $1.99 per month (billed 2-year plan) worth $47.76 worth of the average price of 1year of ExpressVPN. If you want to choose a monthly plan, it cost $11.95, which is very expensive.
A 7-day free trial is available across the platform supported for iOS, Android, Windows, and Mac. Surfshark VPN accepts payment across the popular payment gateway, such as Alipay, Amazon Pay, Google Pay, Credit Cards, Cryptocurrencies, and PayPal.
In case Surfshark VPN isn't right for you or not, suit your demand after signup for the premium service, no issues! A 30-day money-back guarantee protects you.
Do you want to try Surfshark VPN Subscription best price deal: 24month at $1.99/month?
Surfshark VPN: Customer Support
After signup and you experience difficulties during and after installation, there's a support page for tutorials and troubleshooting guides. The FAQs and other useful information on the site will put you through.
All the contents are mostly related to setup (for instance, guides to setting up the service to work on various routers).
For iOS users, many articles have been available to make the installation and troubleshooting easier for you. Make use of iOS in the support search box to find solutions to any problem related to the iOS device.
Good news! If you encounter any problem, Surfshark's support is available 24/7 through live chat. The response is fast while trying to diagnose the network and installation. The customer agent is a friendly and well experienced to the extent that I give him a five-star rating and excellent feedback.
Final Thoughts
Surfshark VPN is a low-priced and a robust Virtual Private Network featuring with series of advanced features. Yet it some problem as well, and keep improving every day and get some of the issues fixed in the next updates—the 2-years plan worth $47.99 worth to have it in mind, and signup.