Good news! Mytv Africa is back for better. The company made official announcement about a week ago that there will be a temporarily suspended. It is also stated in the statement that, the service should be back up early this week, on a different satellite. Though, necessitating a satellite dish re-pointing for which we sincerely apologize. In this post, I will also guide you how to point dish to mytv africa
Furthermore, The upside is HD(High definition) Channels service, will soon joining the new satellite position, frequency, polarization and symbol rate. It also stated that lost viewing will be compensated for (only official Mytv Africa Subscriber).
You may not be aware of the announcement as a Mytv Africa subscriber and lost signal on your dish. In this post, I will guide you how to re-pointing your dish to the new Mytv Africa satellite position (Belintersat at 51.5e). And how to scan your decoder to get Mytv Africa channels.
Belintersat 1 At 51.5E Coverage
The signal coverage have not be update on lyngsat. However, My logic says that the signal coverage will definitely hit West Africa and South Africa countries. Though this page will be update as soon as possible to affirm the uncertainty.
Belintersat 1 at 51.5E is the new Mytv Africa satellite and position. You ca use 60cm dish and above to get the signal at your reception.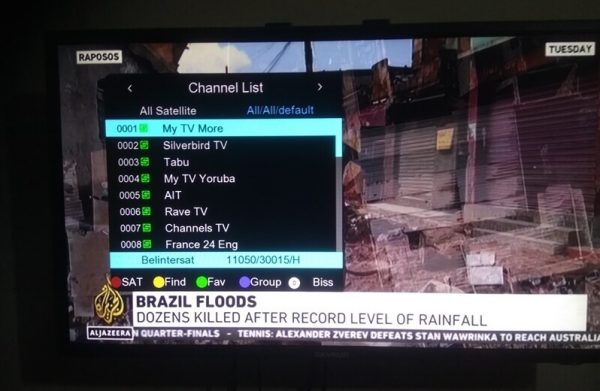 New Mytv Africa Frequency, Polarization And Symbol Rate
| | | | | |
| --- | --- | --- | --- | --- |
| S/N | Frequency | Polarization | Symbol Rate | Encryption |
| 1. | 11050 | Horizontal | 30000 | Yes (but opening with TCAM/CCCAM) |
| 2. | 11090 | Horizontal | 35000 | Yes (but opening with TCAM/CCCAM) |
How To Point Dish To Mytv Africa (Belintersat 1 At 51.5E)
Loose the bots on azimuth and inclination partially
Firstly, use DStv frequency 12245 H 27500 and point your dish to Eutelsat 36A at 36.0E
After hitting signal at optimal level
Now use any one of the new Mytv Africa frequency, in my case I use 11050 H 30000
Drop your dish down and point towards Belintersat 1 at 51.5E
Keep your eyes on the satfinder or tv for signal to come up
Once you hit the signal, tight the bots of azimuth and inclination
Then proceed to scan your decoder.
How To Re-Scan Your Mytv Africa Decoder/LEG N24 Pro Decoder
You have two option get new Mytv Africa channels back; either through adding manual transponder or frequency and blind scan (highly recommend). Therefore to blindscan your LEG N24 Pro decoder, then you should follow the steps below:
Press Menu from your remote controller
Proceed to "Satellite list" and press Ok
Press "Red Button" to add new satellite in the name of "Belintersat 1"
Set Position to "East" because dish will face towards East direction
Set the "Longitude" to 51.5E
Press Ok button to save
Press Exit to the "Installation Menu"
Press OK button on "Antenna Setting"
Choose the new Added satellite
Scroll down to Diseqc mode and change to "Diseqc 1.0" (If you use Diseqc)
Choose the Diseqc 1.0 and choose the corresponding port belongs to your Mytv Africa dish (if you use Diseqc)
Press "Blue Button" to proceed to Scanning Menu
Set the polarization to "Both", Network search to "Off", Channel Type to "All", Scan Type to "Blind Scan"
Finally Press OK Button to start Scanning and wait for few minute to complete the Scanning
Conclusion
Since Mytv Africa has finally moved to new satellite position (Belintersat 1 at 51.5e) from the old position (Eutelsat 16A at 16e). There's no way you can access tvsat africa along with Mytv Africa again. But it can cost you to buy new dish and folow my guides here on how to point dish to mytv africa (Belintersat 1 at 51.5e).
For those with LEG N24 Pro with active TCAM Account can start enjoying Mytv Africa channels on the new satellite, Position and on the new frequency. Don't forget to share if you find this post interesting.