This article will teach you how to extract compressed files on android, iphone, mac and pc or computer. Such compressed files includes RAR, ZIP, iso, gz, tgz e.t.c. These compressed files needs appropriates program or software to extract file on different platforms. So it is a must for every users to determine the file extension to choose software or program capable of extracting compressed file correctly.
What is Compressed file?
A compressed file is any given file that contains more than one files or directory that is smaller in size than the original file size. It allows more data to be stored and makes downloading faster depends on the files size and the speed of the device.
These files are stored in different directory depends on which browser used to download the file, for instances, using chrome browser or moxilla firefox, operamini stored downloaded file into download folder in your device. U.C browser stored download file into U.C browser folder as default except you modify the directory to your favorite folder.
SEE ALSO: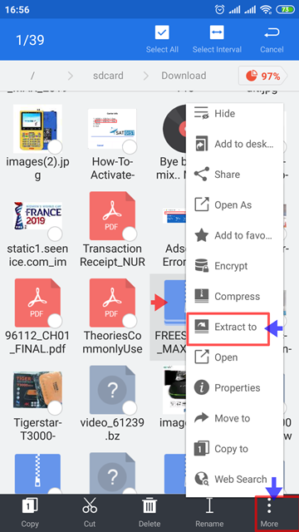 How To Extract Compressed Files On Android
There are some steps requires on how to extract compressed files on Android and below are the steps involves:
Visit Google Playstore to download and install ES-File Explorer or try EZ File Explorer
Launch the app
Locate the compressed file
Press and hold the file to mark the file
Tap "more" option and click on "Extract to"
Select your preferred location where to extract the file e.g "Current Path" indicate the same folder where the compressed file located or "Choose Path" indicate to change the folder or create new folder.
Click on "OK" to start extracting the file, Once finish you are done.
How To Extract Compressed Files On iPhone
Download iZip from App store and install the app
Locate the Zip file or Compressed file
Press and hold on the file, Tap on share
Find iZip and click on it
Choose a location where you want the file to be extracted
Tap "Save to Files" the files will be automatically extracted.
How To Extract Compressed Files On Mac
Double click on the compressed file
The file will be automatically extracting by Archive utility into the current folder which the compressed folder is held.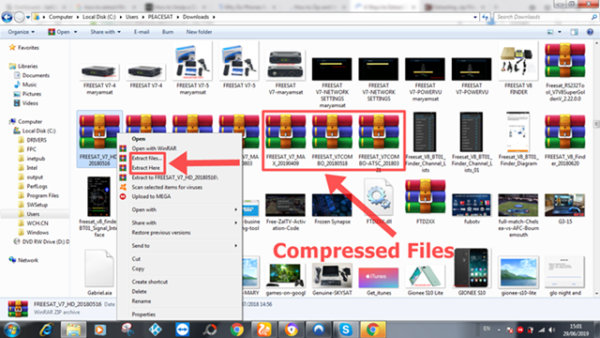 How To Extract File On PC Or Computer
Download Win-RAR File and Install the software on your Computer
Locate the downloaded or compressed file
Right click on it
Select "Extract Here" and the file will be automatically extracted to the current file.
Alternatively,
Locate files and right click
Select and click on "Extract files" a window will pop up
Browse and select your preferred location
Click "OK" to extract the file.
Tips
Make sure you determined the size of the file and the location where the extracted file to be stored. Also using the appropriates software or application on your smartphones or computer.
SEE ALSO: