DStv, the African leading Satellite tv providers, has officially announced to showing boxing rematch between Tyson Fury vs Deontay Wilder. The heavyweight stars faced-off in an in Los Angeles in last year December 2019 with an astonishing draw, which calls for a rematch.
The two heavyweight champions had fought since the last clash and are now focusing on their highly-anticipated rematch. Fury vs Wilder II rematch will be one of the greatest fights so far in 2020.
Fury vs Wilder Rematch: Schedule
After the epic draw in the last fight, rematch officially announced on December 27 as both fighters met in a conference to confirm the clash.
Fury is known as "Gypsy King", who defeated Sweden's Otto Walin in last year September 14 in an exhausting fight. Meanwhile, Wilder is popularly known as "Bronze Bomber" beat Luis Ortiz in an astonishing way on last year November 23 to defend his WBC title. Fusry also defeated Tom Schwarz in last june in an astonishing fight.
The two great fighters will face each again at MGM Grand in Las Vegas on Saturday, February 22. Due to time factor, the fight will take in the following day in London around 4 AM UK time, although there's no official time yet.
Fury VS Wilder Rematch: Reaction From The Fighters
Fury said on stage that" No more diving and ducking as the date has been set, this is an unfinished job for me, I can't wait to fight again".
Also, Deontay Wilder responded that "I'm happy that the rematch has been scheduled, I promise to give the fans what they want fro me".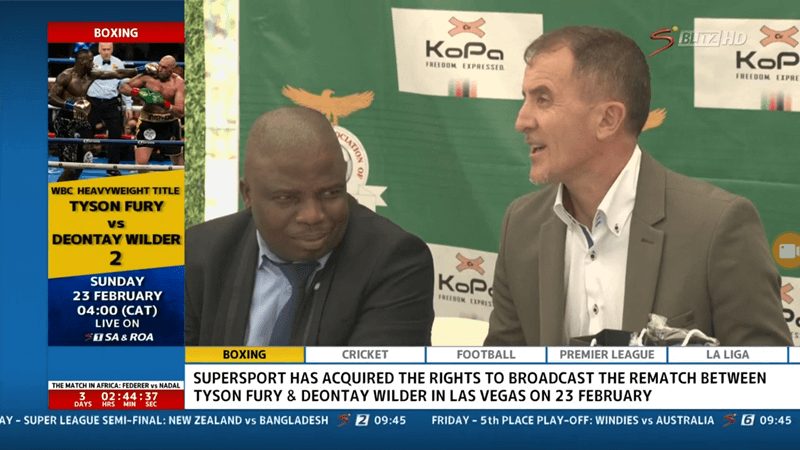 DStv Supersport Officially Announced The Rematch II
DStv Africa, popularly known as Multichoice, has officially acquired the tv right to show the fight. The company use Supersport Blitz to announce the fight rematch will come up on February 22.
The subscribers with active Compact Plus and Premium subscription will have access to the rematch. It will be available live and exclusive on Supersport 1 (South Africa). The good news is that Step up Upgrade Promo still on, you can pay for compact and get upgraded to Compact Plus subscription.
SEE ALSO: