Today I'm want to reveiw Starsat SR-X1 Pro 4K Android and Satellite receiver, This decoder is fantastic with many functions, fully support 4K, HEVC H.265, fully autorole biss and powervu, iptv and so on. Starsat SR-X1 Pro decoder is powered by Android version 7.0, Quad-core processor, 2GB RAM, 16GB ROM expandable with Hard-disk.
Starsat SR-X1 Pro 4K Decoder Key Specs:
Support 4K 60fps plus and HEVC H.264 ad H.265 compliant
Powered by Android 7.0 O.S
Quad-core Processor 3798 Hisilicon Version
2GB RAM, 16GB ROM
DVB-S/DVB-S2 compliant
Support Multi-stream
24 month Forever Server
2year MYHD IPTV
Support built-in Wi-Fi and Bluetooth
Autorole PowerVU and Biss Key
Support Google Playstore
Support Air Z Sync Remote
Opening Beoutq Sport without Internet
Body
The carton are designed in red and white color, While unboxing Starsat X1 Pro Receiver, two remote controller, receiver, user manual, HDMI cable and pair of battery was found in the carton. It is made of plastic and covered with aluminium.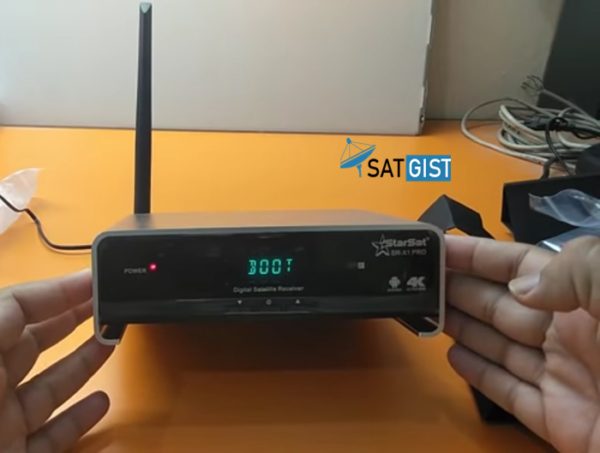 Ventilation holes are available on the top, rear and bottom side of the decoder to prevent over-heating. button were found on the front panel for power, volume and channel switch.
At rear side, Starsat SR-X1 Pro 4K receiver features with Single tuner, HDMI Port, USB's ports, LAN Port, MicroSD card slot, AV and Power input. While LED light panel placed on the front side.
SEE ALSO:
Hardware And Software
Starsat X1 Pro 4K decoder support inbuilt Android tv box powered by Hisi768 4K AMR Cortex-A9 CPU. Android 7.0 Operating system, 2GB RAM, 16GB ROM and DDR4 2GB flash Memory, install app via playstore and via USB.
However, Starsat SR-X1 Pro 4K receiver fully support HEVC H.265 and 4K video output resolution for high experience in streaming 4K contents and Satellite TV channels. For instance BeoutQ and other 4K channels are opening on the receiver without Internet.
24 month Forever Server Pro.125 capable of opening many Satellite TV package such as Canalsat reunion, parabole (South-East africa), ArenaSport HD, SportKlub HD, Albania HD on Eutelsat 16A. Eleven Sport HD, Polsat premium HD, Canal HD, Nova Sport HD on 13e. While OSN on Nilesat 7w and fully opening all PowerVu channels and autorole biss channels.
IPTV to sat features can allow the user to view the Yes TV, SkySport UK, SRF Sport (France), beinSports and OSN channels in Nilesat directly by simply disconnecting the channel and service connected to the applo server
Air Sync Remote-Z Function is another features on Starsat SR-X1 Pro 4K Receiver which allows you to mirror or watch tv content on mobile phone. Starsat SR-X1 Pro decoder can be use to track or adjust dish if signal lost. To download and install Air Sync Remote-Z app visit Google Playstore. You can download latest software to fix minor bugs or channels through swdw.net/
Starsat X1 Pro 4K Receiver Price And Availability
The unit price of the decoder is $300 including shipping cost to any African countries but outside African needs to contact me for the price details and usually our delivery service always take 3-7 working days using DHL, FedEX and Aramex as our preferred shipping company.