It is my pleasure and honor to present the trending Tigerstar T10 Razer Receiver packed with great functions and affordable for Tigerstar T10 Razer Review, Price, And Availability the commercial and end-users. It features many IPTV protocol options, support multistream, H.265, PowerVU, and the capability to open Beoutq Sport and AFN with the Forever server pro. Let's do the review.
Key Specifications:
Powerful GX CPU Built-in 128MB DDR3 SDRAM high-speed memory
Flash 8MB storage
Support DVB-S, DVB-S2 and DVB-S2X
Built-in T2MI
Support for H265 codec
DVB-S, DVB-S2, H265 compliant
SAT2IP Protocol
3G modem support, And External USB Wi-Fi
1month Apollo IPTV
15-months of powerful global internet sharing, the new Forever server
12-month haha IPTV account for free
Support a 6-month Haha-VOD
Tiger T10 Receiver: Body And Design
Tiger T10 Razer receiver is very light in weight and design with two colors, Black and white color and the bottom is also white with a curved edge in the front.
There are ventilation holes at both the top and the bottom, which prevent overheating with one USB port situated at the side. Tiger T10 Razer has a single tuner located at the back and USB, HDMI, AV jerk, IR, and Power port. At the same time, the external Interface Reader attaches to the IR port to display the number of channels; thus, it is unnecessary.
Hardware
Tigerstar T10 Razer features the most advance and high-efficiency video coding H.265 for delivering a compressed signal to Improve the viewer experience. Tiger T10 Razer can connect to a different range of external Wi-Fi and 3G modems for internet connectivity.
Tigerstar T10 Razer Receiver Tuner: DVB-S/DVB-S2, And DVB-S2X
The signal tuner is not better than that of the T20 receiver, which reduces signal quality by 2-5% depending on frequency modulations. It supports a Multistream tuner to scan and detect hide channels such as Max tv on the Multi-Ghana package. Tigerstar T10 Razer receiver can auto-role any channels encrypted with Biss and PowerVU keys such as Signal-6 and HBO, respectively.
Software
Upon booting while power on, The welcome or booting image is a fantastic and friendly menu interface. Tigerstar Forever decoder can open Beoutq Sports channels on Badr 26e, AFN Network on Eutelsat 9A at 9e, and SES 5 at 5e with Forever server pro.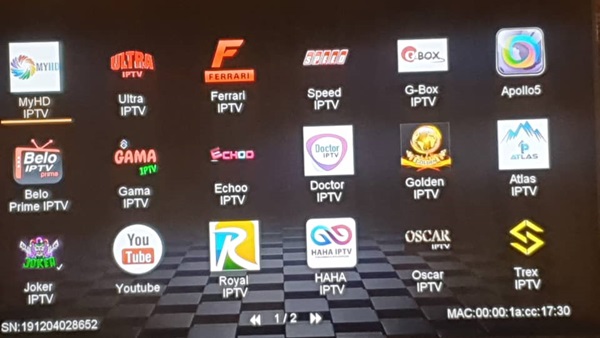 Haha IPTV has confirmed working fine with in-built 12 months, 3month Joker IPTV, 2month Haha IPTV, and others are working with at least a 1month free trial. There's also a dedicated menu for video-on-demand, which contains movies, series, Kids from different IPTV Service Provider, and many more. You can visit Tiger's official website for software updates. It has 15 month Forever Server SE with the latest version, while Tiger One Million has Forever Server Pro.
Tiger T10 Razer Receiver: Pricing And Availability
The unit price of Tigerstar T10 Razer receiver starts from N25,000 and above depends on the features. Some Nigerian dealers used to ask Tiger company to remove features to beat the price down to be more affordable. If you want to place an order, contact me.