Red Tiger One Million 4K UHD comes in a stylish design but does not feature the android operating system. It features everything you need to watch any favorite show at an affordable price. It is a portable device with 4K resolution, H.265, DVB-S2X, a Multi-stream tuner, a 12-month Myhd, and Apollo IPTV. 15-month Forever IKS sharing for watching satellite packages across the world.
Red Tiger One Million 4K Ultra HD Receiver Key Specs:
DVB-S/DVB-S, DVB-S2X modulator
Support Multi-stream single tuner
Ali-2661 chip
8MB Flash Memory and 4GB ROM
Fully 4K Ultra High Definition
Fully HEVC H.264, and HEVC H.265
Support Autoroll Biss and PowerVU
Support Multi-Language
It has an Ethernet, 3G Modem, and Wi-Fi connection
Support Disqec 1.0/1.1/1.2 USALS
2x USB ports
Support HDMI and AV
iBox Octopus 4K Ultra has a 15-month Forever Server Pro
1-month Apollo IPTV and Myhd IPTV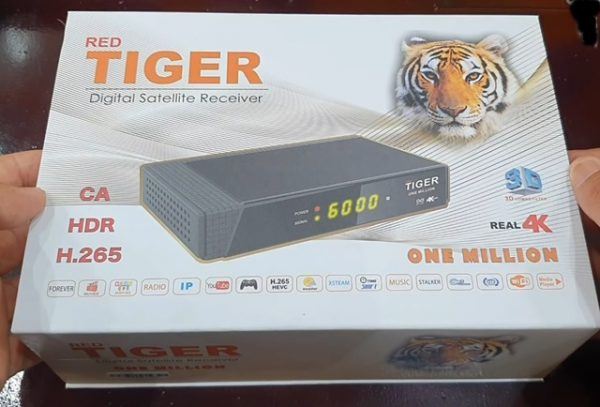 Review:
As stated above, Red Tiger One Million 4K Ultra receiver is a portable decoder with essential features. The body is black with the box name placed at the front-right corner—the LED light on the middle without any button on the front panel. Single tuner, SPID, HDMI, 2x USB, AV jerk, Ethernet, and DC input are found at the backside. Ventilation holes are placed on both sides of the receiver.
The CPU integrated with the Red Tiger One Million 4K Ultra HD receiver is Ali-2661 with 8MB flash memory and 4GB internal storage. It can auto roll both PowerVU and Biss key with a daily key update via a built-in server. It hosts a series of apps like Youtube, a month Apollo IPTV, and Myhd IPTV with a 12- month pre-loaded subscription.
If you already own a T10 Razer and you like to upgrade the receiver to the latest one, then I will suggest Tiger One Million. It is built-in HDR 10 at 60fps for 4K Ultra resolution on the receiver. It features 15-month Forever Server for opening many satellite packages across the world. Red Tiger One Million 4K UHD receiver confirmed opening Amos 4W, Bulgaria sat 1w, Astra 19.2e, Astra 28.2 (Sky UK Package), Asiasat 105.5e, SkyNet 76.5e, and many more.
In terms of software support, there's a dedicated menu to upgrade your receiver through the internet easily. Alternatively, You can visit Red Tiger's official website to download the latest patch and upgrade through USB Menu. It is almost the same as the Octopus 4K receiver because of the same features and appearance, but the brand name and manufacturer name are different. If you're looking for an Android 4K receiver with Forever Server Pro, I suggest Mediastar MS-Diamond Z2 4K receiver.
Red Tiger One Million 4K Ultra Receiver Built-in Different IPTV
Besides having Apollo IPTV and Myhd IPTV. The latest software of Red Tiger One Million 4K ultra update dated September 18, 2021, adds laters of IPTV including 3-month IPTV subscription each for Cute IPTV and Gold+ IPTV. Red Tiger One Million also features an extra layer of IKS servers such as Frame Server and Dragon Server. These options are not feature in any receiver except Red Tiger One Million 4K ultra decoder. Unlike Dontel sat receiver with Scam IKS server.
Pricing And Availability
The unit cost of the Red Tiger One Million 4K Ultra digital satellite receiver is $150 without shipping. You can contact me to place an order, and we ship within 2-3 days after payment is confirmed. We also support Paypal, Skrill, Send Wave, and Moneygram.